Aubrey Plaza on Why She Loves Her Legion Superpowers and Playing a Villain on TV
Aubrey Plaza opens up about playing the villain, inviting witches to her home, and her one rule for Halloween.
---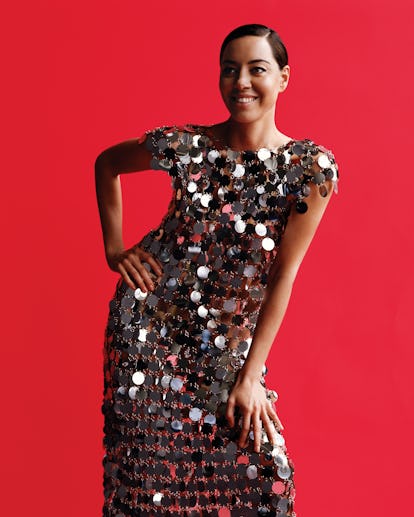 Photograph by Alasdair McLellan. Styled by Marie Chaix; Hair by Orlando Pita for Orlando Pita Play; Makeup by Francelle for Lovecraft Beauty at Art + Commerce; Manicures by Yuko Tsuchihashi for Chanel at Susan Price NYC; Set design by Nicholas Des Jardins at Streeters. Produced by Leone Ioanou at Pony Projects; Production Coordinators: Christopher McCann, Michaela McMahon-Dunphy; Photography assistants: Lex Kemberly, Simon Mackinlay, Peter Smith; Fashion Assistants: Melina Brossard, Victor Cordero, Margeaux Cohen, Justin Hsiung, Fiona Green, Ali Kornhauser; Tailors: Christoforos Kotentos, Hwa Park; Production Assistants: Rafe Andrews, Sam Thompson, Bram VanderMark; Special Thanks to Milk Studios, Pier59, Dishful, Noz, Mr. Paris.
It's been nine years since Aubrey Plaza stepped into living rooms as the blunt April Ludgate on Parks and Recreation, and she never left, thanks to her roles in off-beat indie comedy films and the mind-bending Marvel television series Legion.
Plaza has always enjoyed the theatrics of comedy—she grew up obsessing over Judy Garland, and after college the actress dove head first into the world of improv and sketch comedy, performing at Upright Citizens Brigade and pondering an audition for Saturday Night Live, before getting her official start in the business as the deadpan "dream girl of all the nerds" in Parks and Recreation, Funny People, and Scott Pilgrim vs. The World, simultaneously. Embodying that archetype prepared Plaza well for landing the role of Legion's villainous mutant, Lenny Busker, a character initially written as a middle-aged man.
Here, Plaza opens up about reveling in her power to shock and confuse people, inviting witches to cleanse her home, and why she remains committed each year to giving everyone a good Halloween fright.
Do you know the origin story of your name?
I'm named Aubrey after a song from the group Bread in the '70s. My mom was really young and she just liked the song. I looked it up in a baby book: My name means "ruler of the elves," so I'm a queen elf.
Were you a theatrical child?
I was always interested in being an actress, and I was obsessed with movies. The week I left the East Coast for Los Angeles, I was cast in two films—Funny People and Scott Pilgrim vs. The World—and cast in Parks and Recreation. My whole life changed overnight. In all those projects, I was the dream girl of all the nerds, so when I read the script for Legion, I thought I was going to play the female lead. But they offered me the part of Lenny Busker, which was originally written as a middle-aged man. Lenny becomes the psychic mutant villain of the show. I was interested in showing I can do unexpected things.
Is it fun to have superpowers?
Yes! I can kill people just by snapping my fingers! That's a good feeling: minimal movement for maximum destructive effect. Villains are interesting because they're always complicated and often they have to be extremely charming to trick people. There's something really fun about that.
What was your favorite movie growing up?
The Judy Garland version of A Star Is Born is one of my all-time favorite movies. I was very obsessed with Judy Garland growing up, so I named my dog after her real name, which was Frances Ethel Gum. My dog's name is Frances, but I call her Frankie.
Who was your cinematic crush?
I was always a strange child. I remember when Casper came out, all my friends were obsessed with Devin Sawa and they had a crush on him, but I always had a crush on Bill Pullman, who played the dad. I was always into the dads—John Heard in Home Alone, Dennis Quaid in The Parent Trap, I could go on. But I mainly just had Judy Garland film posters on my wall because people would give me her movies like The Wizard of Oz and Meet Me in St. Louis for my birthday.
Do you have a favorite birthday memory?
My birthday is June 26, and I never got to celebrate my birthday in school. I hate my birthday; I usually just try to hide and get through the day without crying.
Where was your first kiss?
I was in seventh grade. I'm not going to say his name, but I went to an all-girls school, and there was a boy at the brother school who was placed in a juvenile correction facility for taping a screwdriver to his foot and kicking people with it. I believe he was my first kiss, and I remember that it tasted like metal.
Did you have to wear a uniform at your school?
I went to an all-girls Catholic School my whole life, and I wore a very classic blue, gray, and green plaid skirt with a button down shirt. I always rolled the band of my skirt up to make it shorter. I would try to do little things to accessorize, but it was a pretty strict school so you couldn't really get away with much. I loved my uniform so much I took it to college, but then I realized it had a very different effect out of context.
Watch: Aubrey Plaza Explores ASMR with Whispers, Peacock Feathers, and Cornflakes
Where was your first date when you were in high school?
We didn't have proper dates growing up. There was a lot of driving around in the back woods of Pennsylvania and parking somewhere and just getting into trouble. Then sometimes we would go to the only 24-hour diner, which was called the Golden Castle, on Route 202. That doesn't exist anymore but that was a date spot growing up in Delaware.
What's your go-to karaoke song?
I can't do karaoke unless I'm extremely drunk, but I think my go-to song would be "Only Time" by Enya. That's a real disruptive song, and people get very confused when that starts happening because it can sound like gibberish. If I'm really in the mood for it, I start doing Garth Brooks, and that really shocks people.
What's your favorite Halloween costume?
I love Halloween so much, but I have a very strict policy that I've never worn a sexy Halloween costume because I believe that you should be scary on Halloween. I basically just do some kind of version of a nautical sea witch. I throw a fishing net on myself, and I have a wig and some makeup. I just like dressing up like a witch, like a sea hag kind of character. As a kid, in the '90s, I ordered a Styrofoam cell phone costume that was electronic. It was a flip phone, and if you pressed a button it would ring, so every time I went to someone's door and rang the bell, I would press it and they would open the door and think their phone was ringing. They would walk away to answer their house phone, and I would be like, "No, it's my costume. It's me." It confused people.
You seem to like holidays. What about New Year's Eve?
I love New Year's Eve. I grew up celebrating all the holidays—a very Irish Catholic traditional childhood, I guess. We always had parties. I'm half Puerto Rican, so my family likes to party, and we would just bring it down, growing up. Now I've taken on that tradition myself, and I've been throwing New Year's Eve parties, and the past three years I've had epic parties. The cops would show up. Hundreds of people in my house. Most of them, I don't even know who they are. It's becoming quite an event. I've wound up in the bathtub. Two parties ago, I hired a witch to give readings at my party. There was a line of people trying to get a reading in the garage, going out the back through my backyard. She was doing it for hours, all night, until four in the morning.
Did you get a reading?
I started to, but I was hosting so I was all over the place. The biggest thing she told me was that there were a lot of spirits in my house attaching themselves to me, and that I needed to wash myself with pine-tar soap every night to remove the spirits.
What's your secret skill?
I have two—I can play the alto saxophone just like Bill Clinton, and I can fold my tongue in half outside of my mouth.
What kind of activities were you interested in growing up?
I wasn't really into toys. I would go into the woods and build fortresses. Sticks and rocks were my friends. I did have a New Kids on the Block set that I played with.
What's your porno name? First pet and the street you grew up on.
Noelle Bancroft, at your service.
Related: Katherine Langford, Aubrey Plaza, Evan Peters, and More Stars Who Prove Television Is Better Than Ever