August Start
Inspired by Judy Garland and his mother's couture habit, a young oil scion gets into the fashion game.
---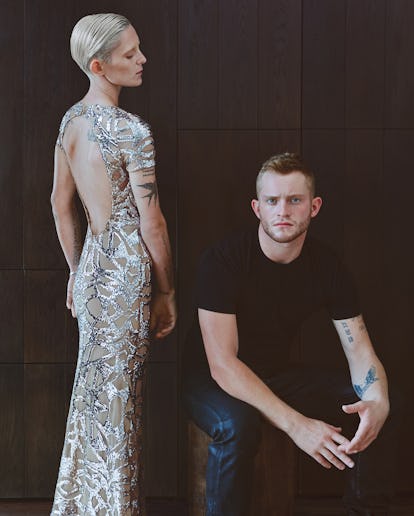 August Getty is incapable of Affecting even the tiniest of fashion-world aloofness. "It's surreal," the designer chirps of his label's debut during New York Fashion Week in September. And his over-the-moon attitude extends to his clientele. "My woman," he says, "is not jaded."
Getty, 20, who is based in Los Angeles, was home-schooled since the age of 16, and when it comes to fashion, he is entirely self-taught. He gets a lot of his information from the Internet, where he obsessively researches his muses—Judy Garland and Klaus Nomi are among his current faves—and where he's been carving out a social-media niche with peacocking selfies for some time. But fashion, he is quick to note, "is in my DNA."
He remembers, as a child, watching with glee as his mother—Ariadne Getty, a daughter of J. Paul Getty Jr.—opened large boxes of couture delivered to their home in England. He also spent his formative teenage years in his family's gardens, where he'd sketch wisteria, hydrangeas, and other showy flowers—not unlike those that appear throughout his premiere collection, with its bursts of scarlet and lavender silk, metallic leather, and custom-made lace. He creates it all out of a Culver City, California, where, among the fanciful gowns, is a Getty gas-station sign that a friend dragged out of a scrap yard. "It's my motivation," the designer says.
Hair by Shingo Shibata; makeup by Kanako Takase for MAC. Photography assistants: Ellen Fedors, Paul Strouse. Fashion: August Getty Dress.