David and Victoria Beckham Star on W Magazine's August 2007 Cover
Read highlights from their interview here.
---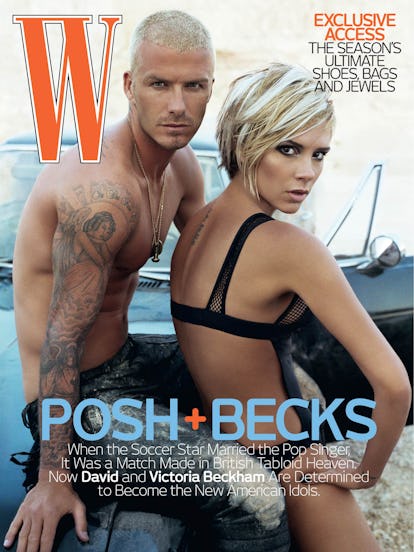 Victoria Beckham tells W magazine what it was like when David was accused of having an affair three years ago: "I'm not going to lie. It was a really tough time. It was hard for our entire families. But I realized a lot of people have a price. David and I got through it together. No one said marriage was going to be easy. Yes, there have been bumps along the road. But the fact is we've come out of everything we've been through stronger and happier. It's even better now than when we were first married. After all these years, we can just come home and have a laugh together."
Following are other comments from David and Victoria Beckham's interview found in the August issue of W:
Victoria Beckham
ON WANTING TO CHANGE AMERICA'S OPINION OF HER… "I think people are really going to see me for the first time. I think they have this impression that I'm this miserable cow who doesn't smile. But I'm actually quite the opposite. When you're out there, they're trying to get pictures up your shirt, down your top. With all the flashes, it's as much as you can do to just find your car. I'm going to try and smile more for America."
ON FALLING FOR DAVID'S FAMILY VALUES RATHER THAN HIS SOCCER FAME… "I didn't really know who he was. I was never into football…He was always with his mom, dad and sister while a lot of the footballers were at the bar getting drunk. I could sense right from the start that David was a gentleman, and very family-oriented, which is important because I'm the same."
ON BUYING A 22-MILLION DOLLAR VILLA IN BEVERLY HILLS, CALIFORNIA… "I had quite a lot of things to get my head around. What was the nicest area? I was very much like, 'Okay, the seaside is down there, training is there, school is there, and I think Barneys is over there.' I kind of did it like that…we didn't want anything too huge, too fancy, too ostentatious…something quite practical for the kids. It's a light, happy house, with a great corridor the kids are going to love when they are roller-skating."
ON WHETHER THEY ARE MOVING TO AMERICA TO IMPROVE THE IMAGE OF THEIR CURRENT PROJECTS… "We're not out to be the most famous people in America. We're not looking at the move as boosting the brand. We're us and we've got our kids. We're not aware of a lot of the madness going on around us. We kind of keep to ourselves, really."
ON BEING A SPICE GIRL… "Being a Spice Girl opened a lot of doors, but it also shut many because of preconceptions people have about me. I've had to bang down those doors."
ON BEING FOCUSED ON HER CAREER AT A YOUNG AGE… "Everything revolved around my dancing and singing lessons. I used to customize my school uniforms. I loved clothes, hair and makeup. I've always been a real girly girl."
ON BEING PULLED OVER BY A COP IN LA FOR MAKING AN ILLEGAL TURN… "The policeman was gorgeous. And he loved my shoes."
David Beckham
ON INSISTING HE AND VICTORIA WILL NOT CONVERT TO SCIENTOLOGY DESPITE THEIR FRIENDSHIP WITH TOM & KATIE… "Tom has never even talked to us about [Scientology], much less tried to push it on us."
ON WANTING TO MAKE AMERICANS FALL IN LOVE WITH PROFESSIONAL SOCCER… "I do believe I can take it to another level. I wouldn't have taken up the challenge if I didn't believe I could have that effect."
ON WHY THEY DON'T HIRE LIVE-IN STAFF… "We like to lock the doors at night and wander around naked."
ON TRUSTING HIS WIFE… "I trust my wife 110 percent. When people say, 'Victoria wears the trousers,' I'm happy."
ON HIS FAMOUS HAIRSTYLES… "I never actually think, Okay, next week I'm going to get a mullet. I just wake up one morning and I'm bored with my hair and shave it off. It's just something I enjoy."
ON SEEING VICTORIA IN A SPICE GIRLS VIDEO AND KNOWING THAT SHE WAS 'THE ONE FOR HIM'… "I turned around to Gary (his teammate) and said, 'That one there, that's the girl I'm going to marry."
ON BEING DETERMINED TO PLAY SOCCER AT A VERY YOUNG AGE… "At school whenever the teachers asked, 'What do you want to do when you're older?' I'd say, 'I want to be a footballer.' And they'd say, 'No, what you really want to do, for a job?' But that was the only thing I ever wanted to do."
ON VICTORIA HELPING HIM OUT WITH HIS STYLE… "I've always had a liking toward clothes, but when I met Victoria, she directed me in the right way. When she tells me something doesn't look good, I believe her. We have a connection that way."
ON NOT GETTING UP THE NERVE TO ASK VICTORIA OUT WHEN THEY WERE FIRST INTRODUCED… "I'm quite shy. I just sort of waved from the other side of the bar. I sort of said hello and then just went back to Manchester. I was quite upset and gutted."
ON HIS SIZEABLE GAY FAN BASE… "I feel it's an honor. It's nice to be loved."
David and Victoria Beckham: American Idols
Victoria Beckham wears an Yves Saint Lauren embroidered black silk charmeuse dress; Brooks Brothers white cotton tank top. Her own bra. David Beckham wears Acne Jeans blue cotton denim jeans. Gucci sunglasses; Frye boots.
American Apparel nude cotton and spandex jersey leotard. On him: Daang Goodman for Tripp black cotton pants.
Follow W magazine on Twitter!
VPL nylon and spandex bra; nylon, spandex and cotton bodysuit; polyester and cotton briefs and belt. Alexander McQueen boots. On him: New York Fetish latex pants. Giles & Brother by Philip Crangi necklace over his own necklace; Made Her Think bracelet.
Agent Provocateur nude silk, nylon and elastane bra and briefs. On him: Dolce & Gabbana white nylon and elastane briefs.
Hermès black polyamide and elastane swimsuit. Alexander McQueen boots. On him: DSquared black cotton and nylon pants.
Just Cavalli leather pants.
Follow W magazine on Twitter!
Dolce & Gabbana nylon and polyamide maillot. On him: Adam Kimmel wool and cashmere cape.
The Beckhams with Giorgio Armani at the Met Costume Institute gala.

Photographer: Steve Eichner
Victoria Beckham and Jennifer Lopez at the Marc Jacobs Spring '09 show.

Photographer: Steve Eichner
Victoria Beckham and Jennifer Lopez at the Marc Jacobs afterparty.

Photographer: Steve Eichner
An image from a Marc Jacobs campaign starring Victoria Beckham.
Follow W magazine on Twitter!
Your Favorite Celebrities Pick Their Favorite Spice Girls