August Release: Jon Hamm & Rebecca Hall
Hamm and Hall's Adult Talk, Frida Gianni Does Gucci Her Way, Los Angeles Ups Its Art Game, Plus! Fall's Best Geometric Bags
---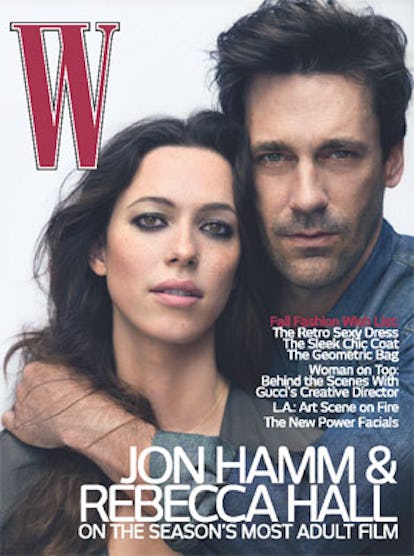 Highlights from the August issue of W magazine are below:
JON HAMM & REBECCA HALL, ACTORS- page 88:
Rebecca Hall and Jon Hamm, stars of the gritty new Ben Affleck-directed The Town, speak to W's West Coast Editor Kevin West about the film, the dearth of movies aimed at adults, and address rumors of Hall's romance with a certain director:
Jon Hamm on his upcoming film, The Town:"It's an adult movie. Those are in short supply. I hope that there's still an audience for that kind of film, where you can go and see adults behaving like adults."
Hamm on what is sexy:"To be able to read and talk about complicated things is sexy. It's not just having a pair of bolt-on-tits."
<strongHamm on being a 'man's man' or a 'ladies man': "I was raised by a single mother. I think the definition of a man's man has shifted in recent times to this sort of fratty bro, different from the older version which was aloof and different- Gary Cooper or Cary Grant or James Bond. Now it's a little vulgar, kind of a lowbrow, adolescent. I'm not that guy. Part of being an adult is treating women like women."
<strongRebecca Hall in response to implications she was to blame for the breakup of Sam Mendes and Kate Winslet: "No." Hamm: "The reality is I broke them up." Hall: "John Hamm was sleeping with Sam Mendes." W: "Wow. Does a sex tape exist?" Hamm: "Does it? He directed it. It's beautiful."
FRIDA GIANNI, CREATIVE DIRECTOR, GUCCI- page 102
Whether hobnobbing with Hollywood or dreaming up sexy-luxe clothes for the label's fall line, Gucci Creative Director Frida Gianni means business. She speaks with W's Lauren Collins about her approach to fashion design, and why she likes things done her way. "Sometimes I see comments [criticism from press] that are stupid. If commercial means that you can save jobs. I am more than happy to be commercial," she says.
LOS ANGELES ART SCENE HEATS UP- page 96:
Move over, New York! Thanks to a recent run of major gallery openings and museum expansions, Los Angeles is going from art-world upstart to established star. W's Kevin West discusses the advent of art on the other coast and how it is translating to younger generations. "Aspiring young players in the agency world now see an art collection as the next status symbol after a leased Range Rover," he says.
FALL'S BAGS GET IN LINE- page 80:
This season's looks are all about geometry with sharp contours, angular shapes and loads of chic. W's August issue showcases top designs from Versace, Lanvin, Michael Kors, Calvin Klein, Chanel and more! Plus, fifties glamour is back in Sweet & Vicious–a schoolgirl-meets-vixen fall fashion preview shot by Alasdair McLellan (page 66).
UNCENSORED: SOLE SEARCHING- page 48:
Word on the street is that some luxury brands are experimenting with embedding tiny electronic chips in their footwear to facilitate tracking and stocking of merchandise and to offer irrefutable proof of authenticity! Christian Louboutin is rumored to be among the brands exploring the technology.
Please credit the August issue of W for the above. For additional information or to schedule an interview with a W editor, please contact Caitlyn Carpanzano at 212-286-2885, caitlyn_carpanzano@condenast.com. Thank you.