Aurora James Loves Denim, Carolyn Bessette
The fashionable creative director shares her style philosophy.
---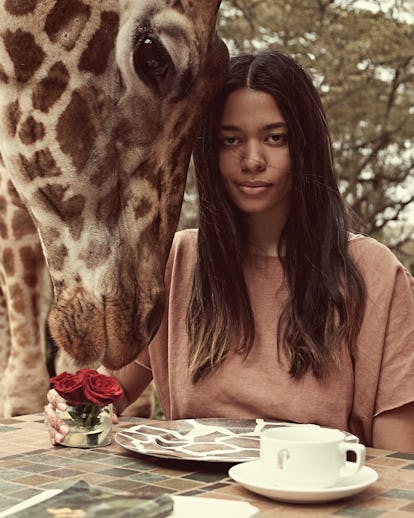 It should come as no surprise that sustainable shoe company Brother Vellies, which enlists the help of African artisans and recycled materials to craft its chic takes on traditional footwear, has a stylish and thoughtful creative director behind it. Backed by past experience as a model agent, curator, and creative consultant, Toronto-born, Brooklyn-based Aurora James has built the company into a force with which to be reckoned since its inception in 2013. On the heels of her exciting placement in the 2015 CFDA/Vogue Fashion Fund, we asked the multi-talented entrepreneur to dish on another of her salient qualities—her personal style.
Define your style in three words: Unexpected, textured, playful.
Daily uniform: I'm a denim girl, but love to mix it up with overalls, vests and lots of different cuts. I typically pair jeans with a furry shoe of sorts and I'm often without a handbag at all.
Greatest hits: I wear my Caron Callahan jumpsuits religiously. I also have a Margiela bomber jacket from the masking tape season that is a fall dream come true. Stella Jean's skirts also add a pop of fun to my wardrobe.
Preferred footwear: Brother Vellies!
Finishing touches: Loren Stewart safety pin earrings have been constants of mine for the past two years, I literally have not taken them off. To know me is to know I am also obsessed with moisturizer, I think it's the best finishing touch – healthy skin.
Nighttime look: Basically my daytime look, but with round Miu Miu glasses.
Style pet peeve: People who think they aren't cool enough to wear something. We are ALL cool enough to wear everything! Embrace your inner Tilda Swinton!
Style icons: Carolyn Bessette. Florence Welch also inspires me because I love how she moves in clothes. She is a performance artist, within fashion, which is all a designer can ever really hope of someone like her wearing their clothes.
Last purchase: Protea from Emily Thompson Flowers.
Lusting after: Rosie Assoulin Resort Sweater.
Favorite haunts: LaSultana Hotel in Marrakech is one of the most enchanting places in the World. There is nothing like a drink on the roof there at night to get swept up in the nearby sounds of the medina. Most mornings at home in BedStuy, Brooklyn, I can be found at Brooklyn Kolache.
Summer must-haves: Straw hats, sunscreen and car keys. Summer adventures with friends are what life is all about.
What's always in your bag: RMS Beauty Raw Coconut Oil.
Photos: Aurora James Loves Denim, Carolyn Bessette
Aurora James. Photo by Jason Hardwick.
The Brother Vellies storefront in the South Street Seaport. Photo by Jason Hardwick.
Brother Vellies Snakeskin Babouche from FW15. Photo by Jason Hardwick.
James in Vienna. Photo by Jason Hardwick.
Aurora's home office. Photo by Jason Hardwick.
Aurora and Jason at Giraffe Manor, Kenya. Photo by Jason Hardwick.
Mara Safari. Photo by Jason Hardwick.
Shoes in the workshop. Photo by Jason Hardwick.
James working with local artisans in the workshop in Kenya. Photo by Jason Hardwick.
James in Kenya. Photo by Jason Hardwick.