The Aussie Swimwear Brand You Need To Know Before Summer Ends
Fella designers Rosie Iffla and Christine Tang talk about their modern collection.
---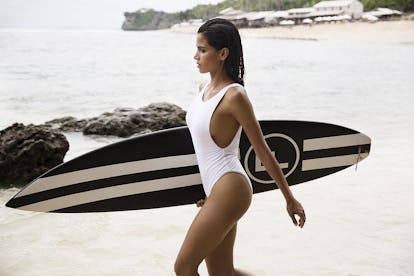 Motivated to launch a swimwear brand with a focus on simple and sophisticated designs, Australians Rosie Iffla and Christine Tang founded luxury swim, lingerie and active wear brand Fella in 2012. Today, the brand has a focus on high quality fabrics and tailored patterns that have quickly made their suits a favorite among the stylish set. Their intention is to design swimsuits that create support from their construction and are practical from day to night. Standouts include cut-out one-pieces, halter tops and '80s style bottoms. Here, Iffla and Tang share how they style their suits from beach to a night out and more here.
What is your favorite beach?
Yallingup Beach in Western Australia.
What is your insider secret?
It woudn't be a secret if we told you.
What is your favorite thing to go pre- and post- beach?
Pre-beach is coffee, and post-beach is Aperol.
Do you prefer the pool or the beach?
The beach. The salt water, the waves, the breeze, the people-watching—the reasons are endless.
What do you always bring to the beach?
Water, towel, sunglasses and an umbrella.
How does your favorite beach inspire your work?
We get inspiration from all the different women on the beach, and what they wear for their body shapes.
How would you style your swimsuit from the beach to a night out?
We have amazing gold and bronze hardware running throughout the new Numero.4 collection. We would style these swimsuits with an oversized shirt or dress which subtly shows off these accessories. Dress it up with some earrings, or dress it down with a pair of leather sandals.
What is your ultimate do and don't at the beach?
Invisible zinc is the biggest do and cigarettes are the biggest don't.
Which swimsuit reference has influenced you most?
Ursula Andress's character Honey Ryder in Dr. No. She inspired our very first collection which launched Fella.
What is your favorite memory at the beach?
Standing up on our first wave, and every wave after that.
Related: Gabby Reece, Still in Pro Beach Volleyball Shape at 47, Wants You to Know That Food Is Your Friend
Willow Smith Spent Her Birthday Chilling on the Beach with Friends
The Ultimate Guide to Summer's Best Swimsuits