The Luxurious World of Oz
The recently opened Museum of Old and New Art (MONA) in Tasmania (profiled in the January issue of W), has added Australia as the latest (and furthest) stop on a culture hunter's jet-set itinerary, along...
---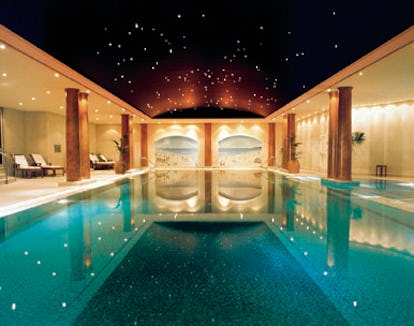 The recently opened Museum of Old and New Art (MONA) in Tasmania (profiled in the January issue of W), has added Australia as the latest (and furthest) stop on a culture hunter's jet-set itinerary, along with more common ports of call like Basel and Miami. A visit to MONA usually begins with an epic flight to Sydney, and after 20 hours of being in the air, it makes sense to sojourn in the city for a couple of nights before boarding a flight to Hobart. Sydney combines the less uptight aspects of British sophistication with a sub-tropical climate, astonishing Georgian architecture and lively, laid-back social scene.
For such a popular destination, luxury hotels are surprisingly sparse, but two offerings, at opposite ends of the aesthetic spectrum, are particularly inviting. The Observatory Hotel, part of the Orient-Express group, ducks the boring, business-y mold that most of the city's other five-stars fit into, opting instead for an old world European feeling. A high point is a multi-course dinner at the fine French restaurant Galileo, or formal afternoon tea in the Globe Brasserie, but it's the hotel's service that wins the most awards — concierge Martin Bray takes sincere pleasure in helping guests. observatoryhotel.com.au Rooms from $315 AU
10 minutes away, the Establishment couldn't stand farther from the Observatory's embrace of tradition. The 33-room minimalist temple is similar in austere spirit to London's Hempel—rooms feature a few pieces of architectural furniture which rest on pale plush low-pile carpet, and spacious bathrooms are oases of white marble. Some of the city's best food is found at Est, where an award-winning modern Australian menu is served in a soaring, pillared dining room, distinguished by delicate, tiered crystal chandeliers and a pressed-metal ceiling. The 7-course tasting menu, which features dishes like steamed cod with shaved abalone and roast squab with grilled figs, is remarkably light. merivale.com Rooms from $249 AU
When you find your way to Hobart, the most convenient accommodation for a visit to MONA is found on its rambling riverfront property, where owner David Walsh has built 8 architecturally-inspired pavilions. They're each the size of a small house, and outfitted with a long list of amenities (multiple flat-screen TV's, remote-controlled everything, kitchens, Aesop bath products) as well as waterfront balconies. The site also houses a fine dining restaurant, a brewery, wine bar, natatorium, and vineyard, along with the museum, but if you feel an urge to explore the not-so-big city of Hobart, a ferry runs regularly directly from MONA to the downtown district. moorilla.com.au Pavilions from $490 AU
If you've made it all the way to Tasmania, you would be remiss if you failed to experience its natural beauty. Read about the recently-opened luxury lodge, Saffire Freycinet, in a story from our January issue, but if you don't feel like venturing out quite so far (Saffire is a 3 hour drive from Hobart) another compelling property, Harmony Hill, can be found in the hills of Margate, a more manageable 30 minutes away. Harmony Hill's brand of luxury is less indulgent than other wellness retreats, but for that same reason, it's more efficacious. Instead of coddling and catering to visitors' whims, the focus is on long-lasting results. The diverse program includes massage, yoga, meditation, energy healing, and body treatments—the Chinese massage takes deep tissue to a new level of intensity, but by the next day your body will thank you—and the 100% organic products are developed by the proprietors, Ami Nakamura and her partner Alfred Merse, for their signature line, Harmony Harvest. Two free-standing, duplex suites are available, and each comes with a glass-enclosed spa atrium, overlooking the mountains and sea. organicspa-retreat.com Suites from $320 AU
Before you head back home from the mainland, make time for a two or three night visit to the Blue Mountains, home to one of Australia's highest-end resorts, Wolgan Valley. The 40-suite resort is modeled after heritage Australian lodge architecture, and its owners, Emirates Airlines, spent over $100 million to engineer a scrupulously researched experience framed by dramatic mountain views. Activities range from nocturnal wildlife drives (in which wombats and wallaroos abound) to a tour of a restored homestead located on-site, dating from 1832 and restored at a cost of $2 million. Dinner each night is a multi-course tasting menu in the main dining room, while a more casual lunch is often served al fresco on the lower level. Wolgan's spa takes a global approach, with a diverse range of treatments, but if you have to choose just one, try the Australian Sunset Ritual. wolganvalley.com Suites from $1560 AU
The far-flung continent has more to offer than MONA's mind-boggling, $100 million dollar collection of antiquities and contemporary art—there's off-the-wall wildlife, breathtaking landscapes and an eco-conscious lifestyle that embraced green values long before they became a global trend. Anticipation of what awaits makes the grueling journey there fly by—just try not to think about the flight home.