Ava DuVernay's "13th" Documentary Takes on Race and Mass Incarceration, Criticizes Both Clinton and Trump
Common, Don Lemon, activist DeRay Mckesson, and many more were on hand last night to celebrate DuVernay's documentary, which opened the New York Film Festival.
---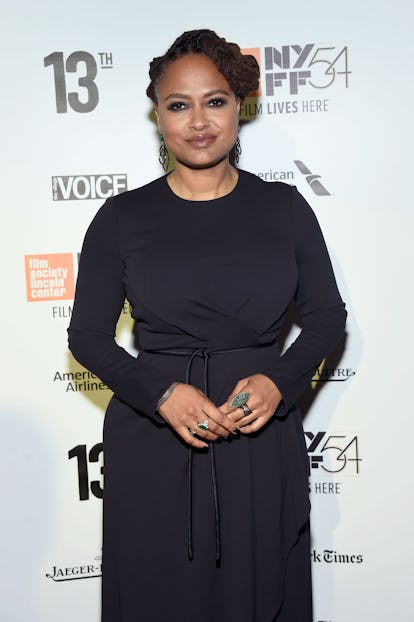 Getty Images
"I've never been to the New York Film Festival because I could never get a ticket, so thanks for letting me in," deadpanned Ava DuVernay, the director of Oscar-nominated "Selma" among other acclaimed films, last night at the festival's opening night. Her documentary, "13th," a bruising and frenetic film that illuminates the link between slavery and mass incarceration in America, is the first documentary ever to open the New York Film Festival. When the credits rolled on Friday night, the audience stood and cheered.
The narrative that DuVernay has crafted tracks the ever-escalating numbers of incarcerated people in America since the eradication of slavery and the passing of the 13th amendment, which contains a clause which allows for slavery to perpetuate if the citizen in question is convicted of a crime. The nightmare is told through commentators including Henry Louis Gates and Newt Gingrich, and the two candidates currently vying to lead this country are not spared DeVernay's penetrating eye: Hillary Clinton is criticized for her use of the term "superpredator," as well as for her husband's involvement with the Federal Crime Bill of 1994, which vastly expanded the national prison system. As for Donald Trump, suffice it to say DuVernay is not a fan.
On last night's red carpet, Don Lemon and activist DeRay Mckesson clustered around DuVernay like moths to flame, as did rapper Common, who wrote music to accompany the film and who appeared at Lincoln Center dressed in an impeccably tailored green suit. "I'm hoping that [the film] opens people's minds and hearts, and I think it can do that," said Lemon. "I think the conversation has started already about reform; I discuss it every single night on CNN, but I'm hoping that it reaches the masses in a concise way because it's going to encapsulate what's important rather than have it dragged out night after night after night on television news."
Later in the evening, Common performed onstage at Tavern on the Green backed by a full band as DuVernay filmed him for her Instagram story from the sidelines. DuVernay, the de facto master of ceremonies, was eager to spend the evening among her friends and contemporaries.
"When Netflix offered me the opportunity to make a documentary about whatever I wanted, I knew what I wanted it to be," she said. "I grew up in Compton around a steady police presence; a very very deep police presence. A lot of interactions with the criminal justice system through neighbors and friends in my community, and so I had been formulating and thinking about these things for a long time. This is a story that's been with me for many, many years."
Ava DuVernay, Don Lemon, and Common at Opening Night of the New York Film Festival
Patrick McMullan via Getty Image