Ava DuVernay's Is Directing DC Comics' New Gods
She's the first woman of color to helm a DC film.
---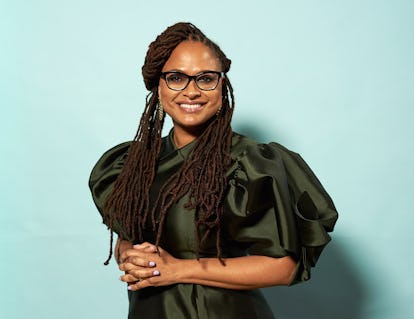 Cara Robbins/Contour
Ava DuVernay made history when she became the first black female to direct a movie a budget of over $100 million — A Wrinkle in Time, which just opened last week — and, now, she's poised to do so once again. The director has just become the first woman of color to direct a DC Comics film. DuVernay has just been tapped to helm New Gods, based on Jack Kirby's 1971 comic, Variety reports.
DuVernay referenced her new job on Twitter, quoting the series creator and tweeting, "Our dreams make us large." "Thank you, #JackKirby," she wrote. But that isn't the first time she's referenced the comic on Twitter. This past December when a fan asked who her favorite superhero is, DuVernay cited a New Gods character. "Big Barda," she wrote. "Gosh, that's hard. Many reasons." One of them is likely how powerful Barda is. The superhero has even more powers than her husband Mister Miracle, which was precociously feminist of Kirby.
Considering the amount of love Patty Jenkins' Wonder Woman earned, there is definitely a need and an audience for DuVernay's take on Big Barda. There's also the fact that Hollywood — especially the superhero universe within it — desperately needs more female leads. According to a recent study by UCLA, just 31.2 percent of film leads go to women. Another exciting aspect of New Gods is that, given DuVernay's track record, she will likely use the opportunity to further the superhero genre as a reflection on culture, rather than just an escape from it, as Wonder Woman and, more recently, Black Panther have done.
At best, DuVernay and Black Panther director Ryan Coogler's high-profile films mark a turning point in Hollywood, an industry that has marginalized people of color — who account for a paltry 12.6 percent of film directors according to UCLA — and women for as long as it's existed. Hopefully giving credence to that is another news item from today: Amma Asante has been tapped to direct The Billion Dollar Spy according to Deadline. In addition to helming the real-life story of the Pentagon's go-to spy during the Cold War, Asante is at work on Where Hands Touch, a British war drama starring Amandla Stenberg and George MacKay.