Reese Witherspoon and Ava Phillippe Model Together for the First Time
They're having so much fun.
---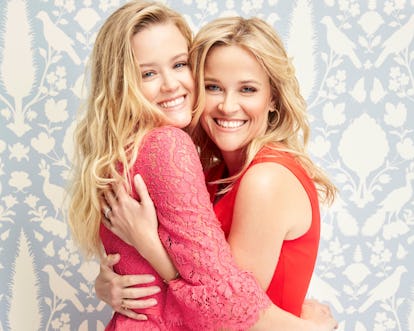 Draper James
Just a few days after making her modeling debut for Rodarte, Ava Phillippe keeps up her new side gig. Except this time the client is a little closer to home: her mother Reese Witherspoon's line Draper James. It also marks the first time mother-daughter lookalike duo has never actually posed together off of the red carpet.
The two—who are nearly the same height, have the same light blonde hair, and extraordinarily similar features—are featured embracing each other in an ultra cute shot for the label's Spring 2018 collection in a new campaign full of Valentine's Day–friendly looks. Not only did mom and daughter pose for the campaign together, but they also answered some questions on the Draper James blog. When asked how her mom influences her style, Phillippe said, "The best thing about how my mom has influenced my style is that, while I do take her advice, it's still my own. She and I agree on a lot of what's 'fashionable,' but we have different taste, and she's really respectful of my personality as I express it through clothes."
When asked what her favorite part about having her daughter on set for the shoot was, Witherspoon revealed the two share more than just clothes. She also said, "I thought it might be fun to focus on Mother/Daughter love this Spring. There is nothing like the love I have for my daughter. We share every emotion with each other, our hopes, and dreams… We can talk for hours!!"
Related: Ava Phillippe, Daughter of Reese Witherspoon, Is Officially a Fashion Model