Those Avatar Sequels Are Apparently Still Happening
Some big blockbusters have been postponed, others have just gone to streaming. Avatar 2 is apparently still right on track for a 2021 release.
---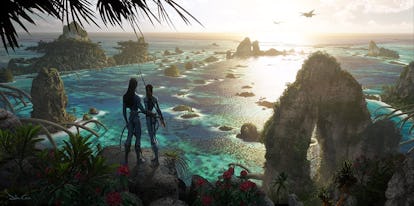 Image courtesy of IMDb.
During the coronavirus pandemic, the question of how Hollywood will continue to make movies has remained on the minds of many audience members and industry personnel alike. It's an especially big question for blockbusters, who rely on theatrical releases across the globe to rake in enough cash to cover the costs expended to make the films in the first place.
But even though the uncertainty lingers, a film like Avatar 2 is apparently still right on track for its projected release date.
Avatar—a technically impressive sci-fi epic about humans colonizing a moon and threatening existing species in the 22nd century—that made a lot of money and broke a lot of records for James Cameron in 2009. After Avatar became the highest grossing film of all time, Cameron announced that he would make not just one Avatar sequel, but four more installments in the franchise. (Technically it's the second highest grossing of all time, after Gone with the Wind, if you adjust its $3 billion box office earnings for inflation, and the highest for just a decade, because Avengers: Endgame eclipsed its record in 2019.)
Cameron initially promised Avatar 2 would be out in 2014, but because of his ambitions to film mostly underwater with technology that hadn't been invented yet, shooting didn't start until 2017. In the meantime, he went on to release a couple of what were essentially, at least to American audiences, flops—Terminator: Dark Fate and Alita: Battle Angel—while people wait on the Avatar sequels to come through. The director eventually promised to release the sequels on December 17, 2021, December 22, 2023, December 19, 2025, and December 17, 2027, respectively. In other words, Cameron has been saying he'll make a sequel to Avatar for years, leaving many fans of the film to just believe it when they see it.
But after a lot of confusing notifications about technical difficulties plaguing production of the sequels and after going so long without a peep from Cameron or the actors (who, understandably, were likely told to keep quiet about specifics regarding their involvement in the sequels), there has been an update from the official Avatar Twitter account: a behind-the-scenes photo of Zoe Saldana, Sam Worthington, Kate Winslet, and Cliff Curtis on set while wearing motion capture suits in the water.
This scene was filmed long before we all had to start social distancing. There's no telling which of the four sequels this shot could be from, but some fans of the franchise are taking this as a sign that the sequels are still on the way, and remain on track with original release plans.
Because of the coronavirus, many movie theaters remain closed for now, and plenty of distributors have decided to either postpone the release of bigger blockbusters or release on-demand instead. Sony's Fast 9 has been postponed, while more indie films are going straight to VOD. Disney+ has decided to just go ahead and release their Hamilton documentary this summer, even though it was originally slated for summer 2021. On the other hand, a director like Christopher Nolan is still promising that his big blockbuster will be out this July, even though health experts do not predict that things will go back to "normal" by then.
But while principal filming for Avatar 2 and Avatar 3 is complete (they were shot somewhat concurrently), it is possible that progress for the fourth and fifth installments could be slowed due to the coronavirus pandemic if they have not completed the portions of production that cannot be done remotely and separately during a global crisis.
Related: James Cameron Thinks Avatar Will Take Back Its Record from Avengers