Will We Ever See a Normal Awards Show Again?
The Grammys, Oscars and Emmys all face unique problems due to the coronavirus.
---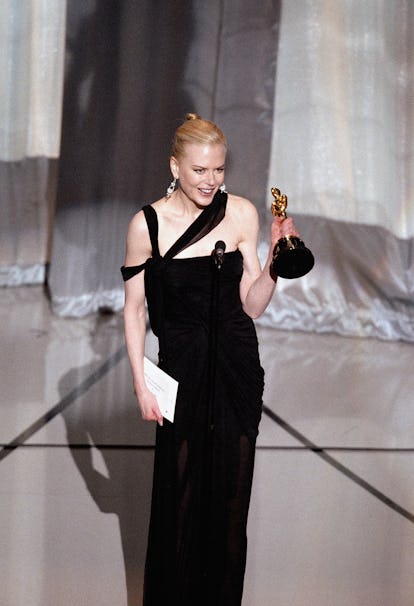 In 2003, Nicole Kidman accepted her Best Actress Oscar just three days after the United States invaded Iraq. Her acceptance speech openly grappled with the morality of even bothering to show up to an awards ceremony in times of such turmoil. "Because art is important," she reasoned. "Because you believe in what you do and you want to honor that, and it is a tradition that needs to be upheld." It wasn't the first time the show had gone on in times of tragedy. The Oscars didn't miss a show, even during the years of World War II.
But the modern Awards Show Industrial Complex has never faced a problem like the COVID-19 pandemic before. Without serious medical and scientific breakthroughs, the virus threatens not just the possibility of holding mass gatherings to hand out trophies but the possibility of whether much of popular art and entertainment is even possible to produce.
Even if the Oscars can go on as planned next February (and that's a big 'if'), there's still a question as to whether many of the possible contenders could be completed and released. The various awards show bodies are already grappling with the reality. Here, a look at the possible future of the major awards shows.
The Emmys
In some ways, the next Emmys won't face the pipeline problem of other awards shows. The qualification deadline of May 31st is fast approaching, and many possible nominees have already aired or were completed beforehand. A few broadcast series may not be able to complete their seasons as planned, and some premieres have been postponed (Kidman's upcoming HBO limited series The Undoing was moved from May to next fall). For the most part, though, there's more than enough fare to fill out nominations.
Still, there's the question of whether a September ceremony could take place.
As of its last update, the Television Academy has confirmed a delay in nomination announcements. "For You Consideration" events aimed at voting members have also been suspended for the time being. The academy has held on to a September 20th ceremony date, but is open to a possible delay. It remains to be seen how long the ceremony could hold out, but of all the major shows, its date may mean it's the most likely to try and find an alternative way to hand out trophies. Acceptance speeches via Zoom?
The Tonys
The Tonys tend to move faster than any of their award show peers. This year, the cut-off date for new productions was to be April 23rd with nominations announced just five days later, on April 28th. Awards would have been handed out just a little more than a month later on June 1st.
The Tonys are also more uniquely screwed than other award show.
Major plays hadn't even premiered by the time Broadway was officially shuttered on March 12th. As it stands now, only four musicals would even be eligible. So far, the awards show's governing bodies have given no indication about how they might proceed, if at all.
The Oscars (and Golden Globes)
The Oscars aren't just an awards show. They're the climax of an entire cultural calendar. First there are the film festivals (which are having their own scheduling dilemmas at the moment). Then, all those screenings, promotional events, and press moments which come amongst dozens of preliminary awards shows (the SAGs, Golden Globes, etc). The movies, of course, actually have to screened in theaters. Oh, right, the movies themselves have to be filmed and completed also.
That pipeline already started crumbling long before Tom Hanks tested positive for the coronavirus while filming his possible contender of an Elvis Presley biopic in Australia. Production was quickly halted, and director Baz Luhrmann has no idea when he'll be able to complete it. It's likely not the only possible nominee in that situation.
Even films that are finished (or can be finished remotely) face the problem of whether movie theaters will even open by the end of the year. The Golden Globes have already made some minor changes to allow some films that premiere online or on Video on Demand to be deemed eligible, and there's pressure on the Oscars to follow suit.
Even if the ceremony itself is allowed to go on as planned, it will still take place under the long shadow of the coronavirus. Though, at least some people see the upside: Elisabeth Moss fans aren't upset about the idea of her winning Best Actress for the already released Invisible Man.
The Grammys
The Grammys have one of the strangest and most stretched-out eligibility periods, which at least gives the The Recording Academy some wiggle room. Music released as far back as October 1st, 2019 are eligible for next year's ceremony, and the cut-off date is August 31st of this year.
That means there are already a decent amount of contenders that have been released (albums from Bad Bunny, The Weeknd, Dua Lipa, Megan Thee Stallion and, now, Fiona Apple among them). Lady Gaga pushed back the release of Chromatica for the moment, but it's likely to find the light of day before end of August. Though, Adele recently hinted that her next album may be pushed back.
Because of that stretched-out calendar, however, the Grammys could be feel the effects of COVID-19 well into 2022 if not beyond. Most major artists tie album releases to major tours (that's where the real money lies), and with the future of touring in doubt, it's likely many marquee names may hold off on releasing new music for a while.