Awkwafina Reminisces on the '90s
In this Five Firsts with Lynn Hirschberg, Queens, N.Y. native Awkwafina discusses (and performs) her favorite karaoke song, and muses on her first celebrity crush Jonathan Taylor Thomas.
---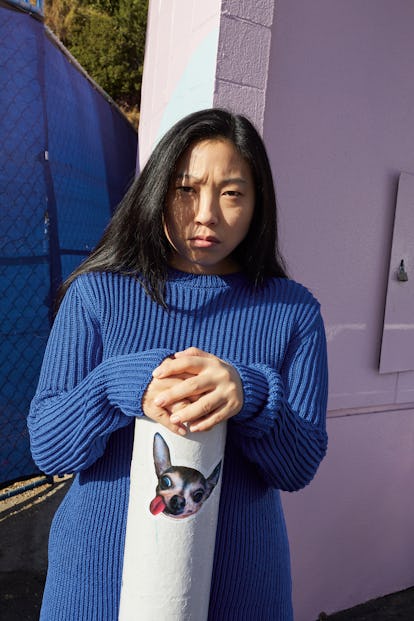 Awkwafina didn't just win a Golden Globe—she is the first Asian American woman to win a Golden Globe in the best performance, lead actress category, cementing her status as a comedic (and dramatic) legend.
In this Five Firsts interview with Lynn Hirschberg, the Queens, N.Y. native talks about the process of auditioning for The Farewell, the film that led her to her win, in addition to industry-wide recognition as an actor.
Despite the accolades and positive reviews that would come, when she first received the call about her involvement in the movie, she felt a bout of nerves.
"I was definitely over the moon when I found out I got the part, but at the same time, I was nervous because there were various firsts that I would be doing," she says. "Drama would be the first one, and then also, I would have to speak Chinese. There's a degree of imposter syndrome. There's anxiety. But I think when you're there and you're in front of the camera and you're in wardrobe and you're in China, it's different."
Awkwafina also takes it back to the beginning, reminiscing on the cultural touchstones from her childhood in the '90s. She discusses (and performs) her favorite karaoke song, Wonderwall; muses on her first celebrity crush, Jonathan Taylor Thomas; and talks about her first CD, TLC's Crazy, Sexy, Cool, which is, in her words, "an album of hits. Hit after hit."
Related: Brad Pitt Talks His Early Days as an Extra, What He Wore to Prom—and His First Kiss