Awol Erizku is Now Beyoncé Famous: What You Need to Know About the Artist Behind That Stunning Pregnancy Instagram
A guide to Awol Erizku, the artist who collaborated with Beyoncé on her twins pregnancy photo shoot.
---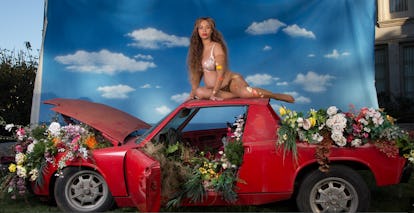 First Kahlil Joseph, now Awol Erizku.
Beyoncé has a way of lifting up all the boats on her wave (consider the current profile of the poet Warsan Shire, an inspiration for Lemonade, who also happened to write "I Have Three Hearts," Bey's twins pregnancy announcement). Erizku, 28, was a Los Angeles artist who'd received a little art world buzz here and there—until yesterday, when it was revealed that he was behind the most liked Instagram post of all time. That's when he became Beyoncé famous.
Erizku, who was born in Ethiopia and now lives between L.A. and New York, has some history with "The Carters." In his 2014 exhibition "The Only Way Is Up," at New York's (now closed) Hasted Kraeutler gallery, he arranged seven basketball hoops with 24-carat gold-plated nets vertically against the wall in a way that he has said references Donald Judd's stacks of metal boxes. Erizku titled the piece Oh what a feeling, aw, f–k it, I want a Trillion, after Jay Z's "Picasso Baby," and positioned a Brooklyn Nets-emblazoned basketball atop the stack, a likely nod to Jay's (tiny) minority stake in the NBA team. Elsewhere in the show, he appended his own hair to an image of Beyoncé on a H&M shopping bag, so that her face was bearded. It was a reference to Marcel Duchamp's readymade of the Mona Lisa with a mustache, which Erizku acknowledged in the title of his work, L.H.O.O.Q @Beyoncé after DuChamp #1.
This marriage of hip-hop culture with male art titans repeats throughout the work of Erizku, who holds a MFA from Yale. He has made neon signs that read #TRILL and #WAVY, a la Ed Ruscha's OOF. He has released a mixtape with the producer Kitty Cash to hype his Hasted Kraeutler show, featuring a lecture by the artist Kerry James Marshall laid over Beyoncé's "Drunk in Love." The 2016 painting Same Ol' Mistakes, which he showed at Nina Johnson gallery in Miami, is named after the track off of Rihanna's ANTI, and borrows one of her stick figure self-portraits. There's another painting that is named after Future's "Codeine Crazy." A landscape work is called "Come and See Me ft. Drake."
Erizku wears his influences explicitly and easily. He has spoken about the impact New York rappers like Nas and Rakim have had on him, and has repeatedly cited his admiration for and lineage with Duchamp and David Hammons, a revered L.A. artist whose work, like some of Erizku's, addresses race in America in a variety of mediums and methods. "He is to me what Duchamp was and is to him," Erizku told W last January. "Someone to look up to."
That was on the occasion of his solo show, "Bad II the Bone," in a Downtown L.A. office and backpack manufacturing complex (in collaboration with Night Gallery). Named after the Destroyers song, the exhibition featured what has now become his most famous artwork: Ask the Dust, a beat-up red Porsche overgrown with flowers, which has the pregnant Beyoncé sprawled on top of it in the photo album she released this morning. (The piece was a collaboration with the florist Sarah Lineberger.) The show was the first installment of a roving gallery that Erizku called a "Duchamp Detox clinic."
Duchamp was famous for elevating common objects—a bicycle wheel, a urinal—to art by simply designating them so. Beyoncé has brought the work of niche talents—a poet, a conceptual artist—into pop culture, by her sheer cult of personality. The thing that transformed one thing into something different, in Duchamp's mind, was the artist's signature. In that way, Beyoncé might be even more like Duchamp than Erizku.
Photos: Inside Awol Erizku's Duchamp Detox Clinic
Photo courtesy Awol Erizku.
Photo courtesy Awol Erizku.
Photo courtesy Awol Erizku.
Photo courtesy Awol Erizku.
Photo courtesy Awol Erizku.
Photo courtesy Awol Erizku.
Photo courtesy Awol Erizku.