Inside Awol Erizku's Duchamp Detox Clinic
A preview of the artist's latest exhibit in L.A.
---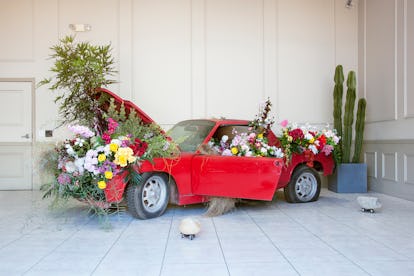 The first installment of Awol Erizku's Duchamp Detox Clinic, a roving gallery space the 27-year-old artist created for himself and his emerging peers in Los Angeles, comprises layers of assembled found materials: polyurethane sheets and basketball nets that have been spray-painted, covered in house paint, and then spray-painted again. There's also an out-of-commission Porsche 914 salvaged from the Palm Springs desert and potted with live and plastic plants. A Soundcloud mixtape, mixed by Erizku and DJ Bradley Soileau, provides the soundtrack: it opens with that familiar riff from The Destroyers' "Bad to the Bone," and continues on to N.W.A., Kendrick Lamar, and a Drake track overlaid with an interview with founding West Side Crips member Stanley "Tookie" Williams.
"Bad II the Bone," which opens on Saturday in a Downtown L.A. office and backpack manufacturing complex (in collaboration with Night Gallery), is a multimedia portrait of the West Coast. In the year since Erizku moved here from his native New York, the city has made a sizable impact on his work.
The graffitied polyurethane combines the vernacular of gang culture and the makeshift plastic homes that line the sidewalks of nearby Skid Row. The Porsche overgrown with plastic fauna tells of L.A.'s obsessive car culture, and perhaps the town's predilection for cosmetic procedures. They are also nods to the artist David Hammons, whose voice also features on the mixtape, and whose own commentary on Marcel Duchamp's legacy in the art world inspired the name of this itinerant detox clinic.
"He and John Outterbridge once said that nowadays artists just have to mention Duchamp, then just go straight to the bank," Erizku explains.
Erizku's work overtly follows in the footsteps of the older artist, who came to Los Angeles in the 1960s and employed found objects as material references to black culture.
"He is to me what Duchamp was and is to him," says Erizku. "Someone to look up to."
Erizku's specialty has become combining seemingly disparate genres and materials into new hybrid mixes, from so-called high art and street art to paint and Porsches, expressed on digital outlets like Soundcloud and Instagram as often as in real life. He started making such readymades—found objects presented as art, a term coined by Duchamp himself—during his M.F.A. at Yale, with slicker objects like gold-plated basketball nets stacked vertically in reference to Donald Judd.
But his West coast works have a grittier tone that feel more vibrant in their honesty. It's just ironic that he had to come to L.A. for that.
Photos: Inside Awol Erizku's Duchamp Detox Clinic
Photo courtesy Awol Erizku.
Photo courtesy Awol Erizku.
Photo courtesy Awol Erizku.
Photo courtesy Awol Erizku.
Photo courtesy Awol Erizku.
Photo courtesy Awol Erizku.
Photo courtesy Awol Erizku.