Azzedine Alaïa's First Fragrance
The fashion designer gets into the perfume game.
---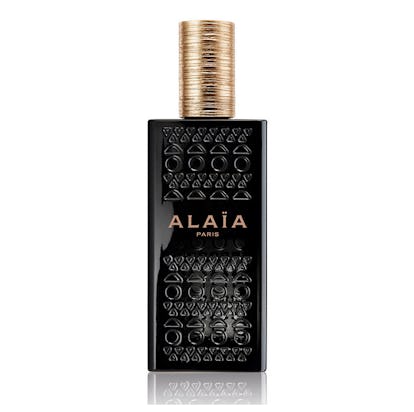 After decades of waiting, fashion designer Azzedine Alaïa is finally releasing a fragrance. On Wednesday evening, Alaïa Paris held a coming out party—an intimate dinner for around 100 international editors and friends, including model Guinevere Van Seenus who will appear in the campaign—in celebration. Guests dined under the winter garden glass ceiling of his studio, while dancer Bianca Li (also Alaïa's muse) provided entertainment. But nothing outshone the first glimpse of the bottle, an ode to the laser-cut leather he has used since 1992, topped off with a gold-threaded bobbin-like cap.
The following morning, Firmenich perfumer Marie Salamagne explained how the animal floral was meant to evoke a memory Alaïa had of the sensation of cool water splashed on his face which Salamagne translated with notes of freesia, peony, musk and animalic, with a hint of violet. The fragrance launches in September.