B. Smith, Model Turned Mogul, Remembered After Dying at 70
Actors, models, and journalists share their remembrances of the late B. Smith, model and lifestyle guru, who died at 70 from early onset Alzheimer's.
---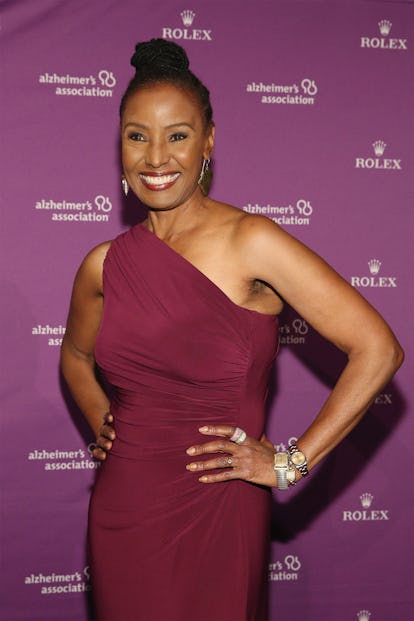 Photo courtesy of Getty Images.
Over the weekend, B. Smith, a model and lifestyle guru, passed away at the age of 70. She had been battling early onset Alzheimer's disease, according to reports.
Dan Gasby, Smith's husband, with whom she cowrote Before I Forget: Love, Hope, Help, and Acceptance in Our Fight Against Alzheimer's, confirmed her death on Facebook.
Smith began modeling once she convinced her father that the John Robert Powers modeling program that she planned to attend would be a sort of "finishing school." She was finally selected for the Ebony Fashion Fair in 1969, which led to her being signed by Wilhelmina Models.
In addition to being the second black model to be on the cover of Mademoiselle magazine, in 1976, Smith was also an author of multiple cookbooks and started her own magazine.
Born Barbara Smith, the model went by her first initial, "B.," when it came to branding her empire. Her entrepreneurial spirit turned her into something of a lifestyle guru, and some even referred to her as the "black Martha Stewart," though Smith clarified her thoughts on the moniker in a 1997 interview with New York magazine: "Martha Stewart has presented herself doing the things domestics and African Americans have done for years. We were always expected to redo the chairs and use everything in the garden. This is the legacy that I was left. Martha just got there first."
Smith was also a successful restaurateur, opening three of her own restaurants, one of which was named after her and opened in midtown Manhattan in 1986. It was a popular haunt for black New Yorkers visiting the theater district. Smith herself could often be spotted greeting customers in the establishment, which many of her fans and followers remarked upon when remembering her life.
Many actors, models, and journalists—from Tyra Banks to Viola Davis—reacted to Smith's passing, sharing their remembrances of the model and entrepreneur on social media.