HBO's Bad Education Trailer: School Scandals Are Still Trending
Bad Education's Hugh Jackman and Allison Janney play real-life co-conspirators in the largest school-embezzlement scandal in history.
---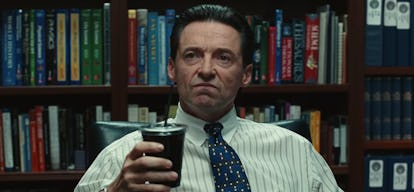 Image courtesy of HBO.
If you've been waiting to find out what exactly has been going on with Bad Education, the Hugh Jackman–led film based on a true crime at a Long Island high school, you're in luck. Some more bread crumbs have finally appeared.
After the film's casting announcement, critics were immediately fascinated by Bad Education and its real-life premise. The movie premiered at the Toronto International Film Festival in September 2019 to positive reviews and was then purchased by HBO, where it will debut on April 25. (It is not to be confused with Pedro Almodóvar's 2004 murder mystery, also titled Bad Education, which stars Gael García Bernal.)
The HBO film's writer and coproducer Mike Makowsky has a personal connection to the massive embezzlement scandal at the center of the story: he graduated from Roslyn High School, where the crime went down in the early 2000s. At the time, the Long Island school district was one of the most prestigious in suburban New York. But in 2006, the superintendent Frank Tassone was caught stealing millions from the district and spending the money on holiday trips, gambling, his swanky apartment, and a vacation home. The total amount embezzled (with the help of some other faculty members) was somewhere around $11 million.
In the film, Jackman plays Tassone, and Allison Janney is Pam Gluckin, his co-conspirator in grand larceny. Ray Romano plays the Roslyn school board president Bob Spicer. Geraldine Viswanathan, Alex Wolff, and Kayli Carter are some of the students.
Judging by the trailer, Bad Education, directed by Cory Finley, could position itself in the canon of school scam movies. And the fact that it will be on HBO makes Emmy nominations likely, particularly for Jackman and Janney.
So just in case anyone thought that adapting big scammer stories for the screen was a tired trope, Bad Education is here to prove otherwise. And, of course, it won't be the last example in this burgeoning genre. It's only a matter of time before some version of Operation Varsity Blues hits the big screen.
Related: Prepare Your Emmys: Winona Ryder's The Plot Against America Trailer Is Here