On Trump's 100 Days Anniversary, These Artist-Made Posters Are the Best Way to Enrage the Alt-Right
The artist-run publishing house Badlands Unlimited is not shying from their feelings about the current administration.
---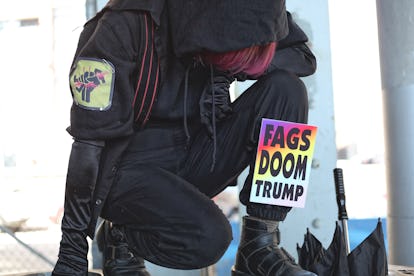 "TRUMP HATES WOMEN." "TRUMP HATES USA." "FAGS HATE TRUMP." These are just some of the unapologetic all-caps slogans currently flashing across the homepage of Badlands Unlimited, the independent publishing house founded by the artist Paul Chan. Lately, they've been finding their way onto the streets, too: the house has started publishing protest signs, which are now for sale on their website, with a portion of the money going to the ACLU, Planned Parenthood, the Ida B. Wells Society, and Black and Pink, just in time for Trump's 100 days. Here, Chan explains how these neon provocations came to be, with an exclusive first look at their "look book," shot by Matthew Raviotta and Burke Battelle, here.
What was the process like for coming up with these provocative slogans, like, "god hates Trump"?
We were at the Badlands office on the Lower East Side in early January having an editorial meeting, which, as they often do, turned into a s—-talking session. The s— we were talking about being our new president and just how hateful the man is. I haven't been looking at the news since November 10, but it all reminded me of the Westboro Baptist Church signs—they're pioneers of Christian hate speech, but they definitely have real visual flare. So we just thought, What if we combat hate with hate? I blurted out "god hates Trump," because one of their signs—which I think are some of the most hateful things ever made—is "god hates fags," and hearing it come out of my mouth was so horrifying that it made sense. We just kept brainstorming other phrases inspired by the look and feel of the church: "fags hate Trump," "god hates Ivanka," and others that altogether we're calling "New Proverbs."
How did they up getting out there on the streets?
I'm an artist and I have a studio and some resources and some tools. So from there we just kept going and turned them into real protest signs. It just so happened that the Women's March was coming up at the time we were playing around with them, and when we released them on our website, people loved them and asked if they could put them to use. We gave them to some of our friends, mostly artists, to use in D.C. and in New York, where people loved and hated them in equal measure, and that's when we knew we'd done something right. And we've been launching different versions with different phrases and backgrounds at rallies ever since, like the one at Stonewall in February, and ACT UP's 30th anniversary. We're publishers, so we publish—it just so happens that right now, we're publishing signs.
What have the reactions been like?
Some people are horrified. We've gotten a lot of comments about how god doesn't hate, and we've gotten Christian and conservative trolls on our social media. It's been a crap load of fun, and it's also a little scary. But that's how politics should be.
Would you say protesting's the best way to confront everything that's gone down in the past 100 days?
You know, let a million flowers bloom. Protests are important, legislative struggles are important, everyday acts of courage are important. They all can create a constellation where we feel safer in our own country, and maybe that's all we're looking for. We're looking for a country worth believing in and a country worth being a part of. Many of us feel like we don't belong here right now, and it's a shame, and it doesn't have to be this way. So whatever it takes to make all of us feel safe in this country, I think a lot of are willing to do. It just so happens that we're publishers and artists and we wanted to make these beautiful, provocative signs that remind people where we stand about things, in the hope they'll encourage others not to be afraid to say where they stand, wherever they may be.
Incredible Images of the Thousands of New Yorkers Who Shut Down Traffic Protesting Donald Trump
A protester at an anti-Trump rally in New York.
Related: The New Art of Protest Signs In Trump's America
Meet the Women Who Made History as the Organizers of the Women's March on Washington: