This Man Might Be the Kanye West of Seoul Fashion Week
Bajowoo, the mind behind the South Korean punk brand 99%IS—, announced 24 hours before his show at Seoul Fashion Week that it would take place in the staff parking lot of a hotel. He's rogue, he rants, and his clothes don't play by the rules.
---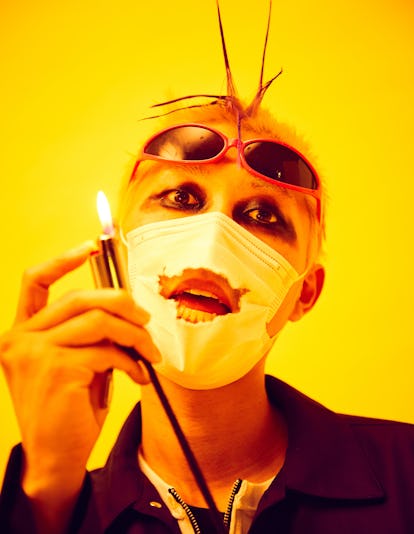 by Mok Jungwook. Sittings Editor: Yookyung Choi. Photo Editor: Biel Parklee.
"Is G-Dragon here yet?"
The South Korean rapper with nearly 11 million followers was the subject of contagious whispers on Tuesday evening at Seoul Fashion Week's first major off-the-calendar show of the season. A crowd of editors, celebrities, and even Demna Gvasalia's brother, Guram was lured in the middle of the night with only 24-hours notice to the staff parking lot at the Grand Hyatt Hotel not only due to the promise of a K-Pop star sighting, but also to see South Korea's first "official punk brand," 99%IS—, (pronounced 99 percent is), which was founded in 2008 by Seoul native Park Jong Woo, who goes by Bajowoo and looks a lot like The Joker from Batman.
"I want what I do to be like a virus," said Bajowoo the day after the show. "It can spread to every age, every period in history, and every culture. No matter who you are, if you catch it, you share the same experience." The 32-year-old said this through his now-signature surgical mask, which he cuts a smile into each day before smearing black eyeshadow around his eyes. He also has bright yellow hair with an anarchy symbol dyed on the back of his head, balanced by purple spikes in the front. On set, he wore a "Fuck Forever" pin from the Spring 2017 collection and drank through a straw, so that he never had to show his face.
Between his penchant for grandiose rants such as this one, rogue fashion shows, and clothes that refuse to play by the rules, it seems fair to deem Bajowoo the Kanye West of South Korean fashion.
"I really like Kanye West," said Bajowoo when asked about American popular culture. "He has a lot of things to say, but gets cursed out. But that's what I like about him. He's not trying to act cool; he's just doing what he wants to do."
In addition to G-Dragon, other celebrity fans of 99%IS— include Lady Gaga and Justin Bieber. However, West himself has yet to catch on. Bajowoo has always had a strong connection to music though, and after graduating from fashion school in Korea, he traveled the world designing costumes for small rock bands. Through his work, he developed an eclectic taste for the underground punk style style in particular while visiting cities such as London, Paris, Tokyo, and Bangkok, and eventually settled in Tokyo to attend the Dressmaker fashion school. It was here that he first showed officially at Tokyo Fashion Week in 2012. His return to Seoul this season was because his Spring 2017 collection was inspired by Korean culture.
Exclusive Backstage Images of the Shocking 99%IS— Show In Seoul
The scene at the 99%IS— show in Seoul was Mad Max meets Japanese Yakuza meets The Sex Pistols. Guests were each handed a Brewdog "Punk IPA" and ashtrays were placed at the end of each row with lighters. Everyone — including K-Pop stars — dressed for the occasion in leather jackets, platform boots, and fishnet tights. Models emerged from a cloud of smoke vaping and drinking as well — some even poured beer on themselves to reveal a print underneath their soaked white shirts. And while the collection was meant to look like a hot mess, there were other clever tricks of the eye, including smashed cans worn as glasses, hundreds of safety pins arranged to make graphic prints, and embroidery of the letters A.G.T, which stands for both "against great truth," and the word, ah-gee-teu, which is Korean for "hangout spot."
"You never know what's real until you've experienced it," said Bajowoo of the collection's theme of truth versus reality. "For example, if an object is labeled as Coca Cola, you don't actually know it's Coke until you taste it. It could be Dr. Pepper or soy sauce." This was also a metaphor for the way punk culture is perceived, particularly by more conservative Koreans. "Koreans think punk is only aggressive," continued Bajowoo. "I want my clothing to show that it's more than that."
For Bajawoo, the definition of punk includes everyone from skaters to skinheads to the Sex Pistols, who all may have their own ah-gee-teu, but share a commonality. "Even though our appearances are different, when you look at someone's clothing, you can know you share similar feelings," he said. "I can walk into any ah-gee-teu around the world with confidence."
With the rapid globalization and modernization of South Korea, it's no surprise that many young people are embracing both the punk look and lifestyle. At the 99%IS— show, tattoo-clad models even walked topless — two practices that are still extremely frowned upon in Korean culture. But with major stars like G-Dragon getting behind the punk trend, too, perhaps this is a sign that there's even further change afoot.
"People are not interested, and don't know about the one percent of us that cannot fit in with the rest," said Bajawoo of his army of K-Punks, who may not be mainstream yet, but are certainly a community of their own. "But for me and my friends, it's everything. It's 99-percent."