Balenciaga's Video Game for Fall 2021 Is Revolutionary, and We Await the 2.0 Version
Characters in "Afterworld: The Age of Tomorrow" teetered around wearing JNCO-style jeans, NASA bombers, and a new iteration of the Balenciaga slogan tee.
---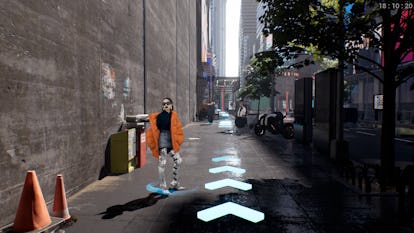 Last Thursday, Chanel carried on with its annual Métiers d'Arts show just as usual—the only difference being that only one person, who happened to be Kristen Stewart, took it in IRL. Three days later, Balenciaga took a different (and safer) approach. Like many others since the pandemic began, the house presented its fall 2021 collection entirely virtually. But unlike the rest, it also did so interactively. Instead of creating a static video or lookbook, Balenciaga created a video game.
"Video game" should be put in quotation marks. I'd been joking with my coworkers about facing off once the game, titled Afterworld: The Age of Tomorrow, premiered, but all I really did the whole time was press "W" to navigate my character forward and "A" and "D" to teeter to the sides. For well over 10 minutes, I wondered if this was yet another instance of Demna Gvasalia trolling—an activity at which the house's creative director truly excels.
It wasn't until my second attempt that I could really admire how realistic the models were when you got up close, from their movements to the clothes they wore. The fashion could be viewed via the brand's lookbook if the game didn't allow for a detailed enough inspection. Rooted in house codes, the '90s raver club kid-inspired collection included ripped, JNCO-style jeans; NASA bombers; and a new iteration of the Balenciaga slogan tee. Especially delightful: the thigh-high armory that culminated with a full-on-regalia, Joan of Arc-style Eliza Douglas.
Unfortunately, that second time through ended prematurely; I got stuck in front of a concrete column, between two well-lit and entirely unpopulated stores, which were apparently circa 2031. I'm by no means a gaming expert, but I'm pretty sure I encountered a glitch. After all, Afterworld began with a message that I'd "reached the highest level of digital enlightenment," followed by another that I'd "ended the game prematurely," before I even started. I then switched to Safari, which ate up my new MacBook's battery. (For what it's worth, according to one Twitter user, "it runs like poo on iPhone 12.")
For me, the most enjoyable part by far was watching two avatars in a row repeatedly walk into a column, as if trying to access Platform 9 3/4. They then did the same with two models before vanishing out of sight. Also amusing: losing mobility in front of a model whose sweatshirt read "free."
That's not to say Gvasalia's approach isn't pioneering. And it's especially smart for reaching an untapped audience, much of which considers the house an elevated streetwear brand. In any case, virtual or not, isn't fashion week always absurd?