Surfing in Style
The luxe resorts and perfect waves of indonesia are luring a new crop of wealthy surfers. But the pampering stops once they get in the water.
---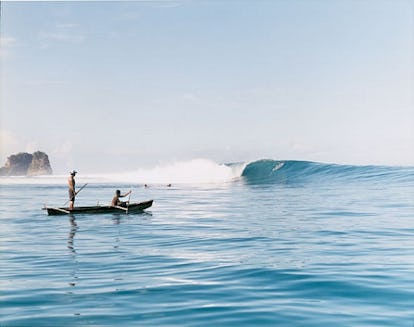 "Good morning, sir. Small waves today."
It's my first day at the Istana, a cliff-top villa overlooking Bali's legendary Uluwatu surf break, and the butler, dressed in a batik sarong the color of grape juice, greets me with a polite bow and the surf report. Although I've been in Indonesia for less than 24 hours, I'm already beginning to suspect that "small" often means something different here—something along the lines of "large." During a walk around the villa's garden a few minutes earlier, when I spotted a jumbo iguana diving into the pristine swimming pool, one of the staffers explained that it was just one of the "little geckos" that inhabit the property. So when I meander across the lawn and look over the 200-foot cliffs to check out the waves below, I'm only mildly surprised to see a surfer drop into a long, perfect barrel that's cresting three feet above his head.
In Southern California, where I recently picked up surfing after moving there from New York, any wave taller than a full-grown human being is considered pretty sizable. But Indonesia is the Eastern Hemisphere's premier surf mecca, where at any given time a powerful ocean swell is feeding endless rows of giant, perfectly formed waves to hundreds of the archipelago's 17,000-plus islands. I'll be paddling into the ocean in an hour or so, and fortunately, the Istana's chef is making it easy to carb-load, with a lunch of fresh snapper, star fruits and papayas, served at the cliff's edge under the thatched dining pavilion.
My mission: to explore the growing niche oxymoronically known as "luxury surf travel," by sampling Indonesia's five-star lodgings and five-star waves. Not long ago, a bona fide surfing safari required sharing a bunk on a cramped charter boat, or bedding down in a mosquito-plagued camp where you were just as likely to catch malaria as the perfect wave. Part of the reason had to do with the sport's mythology: The archetypal wave rider was (and still is) a broke, stoned, carefree nomad who would gladly sacrifice a soft pillow for the chance to become one with the ocean in a remote, secret spot. And part of the reason was necessity: Outside of well-trod places like Hawaii and California, where upscale chain resorts routinely offer group lessons on the beach, luxury hotels were never eager to attract surfers. But that's changing now that surf megabrands like Quiksilver are raking in more than $2 billion a year, and movie stars from Jake Gyllenhaal to Cameron Diaz are paddling out with their own private surf coaches.
"If you have some money and you want great waves and perfect surroundings, there are all these beautiful new options," says Quiksilver cofounder and CEO Bob McKnight, himself a former surf bum who now travels by private jet to Tavarua, a Fijian surf resort, every Thanksgiving. Roughing it in Indonesia during the Seventies, he recalls, "was the greatest time of my life. But now I'm 52, and I don't want to be cooking my own food in a dirty hut."
These days it's especially easy to avoid that fate in Bali, where even the poshest hotels and villas have surf instructors on call. The five-bedroom Istana was described to me as a "surfer's wet dream" due to its prime location, luxe decor and staff of 22. (Tourism in Bali is gradually making a comeback after last October's terrorist bombings, and security forces are ubiquitous on the island.)
After lunch, I meet up with a local surf guide named Rocky and a couple of other experienced surfers, including W's photographer, Stewart Ferebee. Rocky checks the tide charts and determines that the waves will be best at a nearby break called Bingin, at the end of a potholed dirt road. As we pull into the parking lot, we're swarmed by a group of local women—two apparently in their 70s, their teeth permanently stained red from chewing on betel nut—who insistently grab our boards, balance them atop their heads and carry them through the woods and down the steep cliff-side path, in exchange for 1,000 rupiah ($1) each. We pass a cluster of cows stretching their necks upward to graze, giraffelike, on the leaves of low-hanging branches, and we finally stop in a thatched hut overlooking the water. Here, as at Uluwatu, the waves look ready-made for a surf video and completely different from the ones I'm used to: Hollow and tubular, they break steep and fast over a sharp coral reef.
"No problem," says Rocky, sensing my uneasiness as I notice the powerful current. "Just paddle out there, and it will be fine." But the Indian Ocean is in no mood to go easy on me just because I'm paying top dollar back at the villa, and my reef-break debut is predictably humbling: I get tossed around for two grueling hours. "Like washing machine!" says one local kid, smiling, after seeing me take a particularly nasty tumble. I was comforted by the knowledge that Rocky was watching over us from shore, but when I head in I see him sprawled out on a straw mat, asleep.
Over the next few days, I explore a half dozen of the island's famed beaches, ditching the indifferent Rocky to meet up with Tipi Jabrik and Ismael Dully, two brothers in their 20s who are members of Bali's surf royalty. Dully, an artist and ex-pro with brown hair that's as long and lustrous as Jennifer Aniston's, takes us to Dreamland, an idyllic hangout for international surfing hotshots and their topless girlfriends. Tipi, a pro surfer who also works as a guide, wants to show us Legian Beach, an intermediate-friendly spot where the waves break more gradually, over sandbars instead of coral. (It's a great alternative to better-known Kuta Beach, which is Bali's low-rent answer to Waikiki.) At Legian, we stay in the water until the sun sets, and I ride what has to be the longest wave of my life, before paddling back out and catching an even longer one.
This is why I started surfing in the first place, why I became instantly addicted to the sport's trademark mix of elation and frustration. Undeterred by my friends' blank expressions as I attempted to convey the indescribable thrill of gliding on the surface of the sea—and by the fact that surfing can take at least a decade to master—I found myself rising at 5:30 a.m. to beat the rush-hour traffic to Malibu and hanging out with a new set of surf buddies who used expressions like "gnar-gnar!" (loose translation: double-gnarly). By the time I arrived in Bali, I'd been surfing for almost two years and had developed a basic competence in small- and medium-size waves, but by Indonesian standards I was still very much a rookie.
Even first-timers can catch their share of waves at the Hotel Tugu Bali, a boutique property sandwiched between rice paddies and the ocean in Canggu, an hour's drive north of Uluwatu. Although many extravagant chain resorts have sprung up around the island in recent decades, none is as authentically indigenous as this 22-suite inn, built and decorated by Indonesian antiques collector Anhar Setjadibrata. Staying here is a bit like living in a tricked-out museum whose open-air lobby is guarded by a 20-foot carving of Garuda, the eagle of god Vishnu. There's a 300-year-old Kangxi-period temple from Java, reconstructed here after being slated for demolition, and glass cases displaying complete sets of 16th-century ceremonial gamelan instruments.
The hotel also has its own surfing beach right out back and an instructor, Pino, who takes me out one afternoon. Pino's rudimentary English limits his instruction to a few basic commands—mainly "go!" and "no!" which sound dangerously similar to me—but it's not a problem, because the waves are manageably soft and shoulder-high. Later, during a superb Balinese massage at Tugu's spa, I fall asleep while the masseuse's small hands flutter across my back like dozens of butterflies.
By now I've been completely seduced by Bali's famously gentle Hindu culture, and I'm wondering why Los Angeles can't have ancient temples on virtually every corner, with stone carvings that serve as makeshift vases for frangipani blossoms. So I'll need to steel myself for our next stop, the Indonesian island of Sumba, a Stone Age time capsule 200 miles to the east. Although it's twice the size of Bali, the entire island attracts fewer Westerners at any given time than your average Kuta coffee shop. And because of its tradition of head-hunting and fierce tribal warfare, Sumba has resisted dominance by various Muslim, Hindu and Christian invaders; the principal faith is an animist religion called Marapu. Still, right there on the island's south coast sits, of all things, Asia's most luxurious surf resort—Nihiwatu, a 438-acre swath of jungle with just 10 guest bungalows, a pristine white-sand beach and a private, world-class wave breaking right in front.
The resort's owner is Claude Graves, a caustic, chain-smoking Randy Quaid look-alike who meets us at the airport in Bali for the charter flight to the island. After landing at the minuscule Waikabubak airport and piling into a van, we drive through western Sumba's hilly tropical landscape, passing monolithic granite tombs with lids weighing several tons, clusters of bamboo huts capped by towering thatched roofs that look like witches' hats, and groups of naked children playing in the dirt alongside pigs and chickens. Noticing that the men carry swords in the woven sashes tied around their waists, I ask Graves about Sumba's reputation as Indonesia's last bastion of head-hunting. "Officially, head-hunting ended here in the 1940s and 1950s," he says. And unofficially? "Well, in 1998 there was a battle between two local tribes, the Loli and the Wewewa, and afterward I saw dozens of headless corpses piled in front of the market." At the more recent funeral for tribal queen Juliana, Graves adds, her 12 servants sacrificed themselves to be buried alongside her.
Graves, who casually mentions that he's contracted malaria more than 30 times, is one of those itinerant, intrepid Americans you tend to come across in third-world jungles. (Later, after a drink or two, he promises to show me his collection of vintage human scalps.) In 1973 he was one of the first Westerners to move to Bali to surf its newly discovered waves. During a subsequent stint in Kenya, he met his future wife, a statuesque German named Petra. Both avid heli-skiers who grew accustomed to après-ski pampering, they wondered why there were no luxury resorts for surfers and started looking for a remote place where they could build their own. In 1988 the couple showed up in Sumba with backpacks, surfboards and outdated colonial maps, and hiked along 87 miles of uninhabited coastline—accompanied by armed local guides—until they found the perfect spot. They spent the next nine years securing property rights from village chiefs and landowners, sealing each deal with sacrificial pigs' blood. Graves then hired hundreds of villagers to build the resort. He wondered why his workers kept hitting each other with shovels and stones, until he realized they came from two different tribes that had been at war for hundreds of years. Once he separated them, the violence stopped. (When their first child was old enough for school, Claude and Petra established a main home in Bali; now they travel between the two islands.)
Open since 2000, Nihiwatu attracts vacationing pro surfers as well as jetsetting amateurs like magazine mogul Jann Wenner, Parisian jeweler Lorenz Baumer and leather-goods scion Olaf Guerrand-Hermès (who brings along his private surf coach, famed American longboarder Terry Sims). For honeymooners and nonsurfers there's yoga, diving, fishing and facials. "Often we get couples where one partner surfs and one doesn't, which keeps things interesting," says Graves. "Do you know how boring it can be to listen to a group of surfers discussing who caught the best wave?" With its haute-rustic huts, sand-floor restaurant and laid-back service, Nihiwatu is no Ritz, but for surfers it offers a luxury that outclasses all others: the opportunity to have a perfect wave all to yourself. When I paddle out the next morning, I'm one of only three people in the lineup, and I wonder how I'll ever again settle for Malibu, where I've often seen 100 surfers battling for polluted, waist-high waves.
At lunch that day I talk to one of the Sumbanese villagers who has learned English from Claude and Petra and gotten a job in the restaurant. Marcos Loku, 39, has a 12-inch scar on his back, the result of a stab wound from a land dispute with his neighbor. There's another mark across his right cheek, from a gash sustained during a round of Sumbanese "stone boxing," a traditional sport in which men pummel each other with sharp rocks tied to their hands. Marcos is clearly no wimp, so it's a bit unnerving when he tells me that, like all Sumbanese, he's afraid of the ocean and doesn't know how to swim. Is he ever tempted to surf? "No!" he says. "I see the big waves, I see the people fall, and I get scared."
Well put, Marcos. His words are echoing in my head a couple of hours later, when four of us hop into an inflatable Zodiac and head off for a late-afternoon session at another empty reef break called Fat Hander. It lives up to its name with solid, bulky waves up to 10 feet high that collapse into unforgiving walls of white water. The surfers with shorter boards can duck-dive under each set; my board, a midsize seven-foot-ten, makes that impossible. I try a classic longboarder's move, flipping sideways in a "turtle roll" so the white water will pass over me, but these waves have so much power that they snap the board out of my hands and yank it, and me, underwater. Popping up to gasp for air gets tricky when you can't tell the ocean floor from the surface; within minutes I'm completely out of breath, and I find myself wondering if, just maybe, I'm going to die. During a break between sets, I make it back to the boat, still hyperventilating as I watch a Spanish mackerel treat the ocean as its own amusement park, repeatedly shooting 10 feet into the air and landing without a splash.
The next morning I wake up at 6:30 to the sound of thundering surf. Overnight, a bigger swell has come in, bringing sets of up to 12 feet. I've never been in surf of this size, and sure enough, on my first two waves I take dramatic free falls worthy of America's Funniest Home Videos. As I finally catch one, I notice Graves getting in the water; he's known for waiting until the conditions are perfect before paddling out for a single wave and then retiring, satisfied, for the day.
This is, in fact, the kind of session all surfers dream of. It's also what makes Nihiwatu so controversial in the surf community, since Graves has an arrangement with the local government that allows him to keep the beach accessible only to paying guests. But the wave is so renowned that hundreds of surfers have tried to sneak in anyway. Once, a group of 16 Australians and Americans stormed down the hill and into the water, ignoring Graves's protests; he grabbed his diving knife, paddled in after them, and began slicing their surf leashes while Marcos and others stood guard on the beach. "You haven't seen me when I'm pissed off," Graves says. "I can get pretty gnarly."
Graves's supporters (who include Quiksilver's McKnight) point out that by limiting crowds and growth at Nihiwatu, he's protecting the island from the uncontrolled development that has spoiled so many surf breaks around the world. He has also made good by establishing the nonprofit Sumba Foundation, which is working to rid western Sumba of malaria and bringing new schools and drinking water to many of the villages. "Some people think they have a right to go surf anywhere they want, regardless of the effects on the local culture, because nobody owns the ocean," Graves says. "I think that's pure f—ing arrogance."
Graves's approach does seem to benefit the Sumbanese, and it certainly benefits Nihiwatu's guests, who get an exceptionally close look at an ancient culture that's still intact. When I take out my laptop one afternoon to write some notes at the restaurant, the waiters and bartenders—all from nearby villages—gather around to marvel at it. "Small computer good, so you can take it into the forest!" one says. The talk turns to the prevalence of black magic on Sumba, and Marcos mentions a village chief named Detaraya who has 13 wives, and 72 children that he can't tell apart. His secret is a powder made from herbs. "When he goes into a new village," Marcos says, "if he sees pretty girl walking, he puts powder on a rock, and in five minutes the girl is looking for him to follow him home." Graves tells a more sinister tale of a local shaman who showed up one day in an apparent attempt to kill him. "He was holding a bone ring in his hand, covered with a lace handkerchief," Graves says. "When I lifted the handkerchief, I was knocked back six feet and landed on my back. Afterward I was sick for three days. There are definitely powers here."
Before we leave Nihiwatu, staffer Dato Daku offers to take us for a visit to his village. As we approach, a gleeful group of kids scampers toward us with shouts of "Photo! Photo!" (They don't have mirrors, Graves explains, so they want to see what they look like on the screens of our digital cameras.) From a clearing at the center of the thatched huts, we can hear the wails of a family mourning a woman who died a few hours ago. Four days from now she'll be buried underneath one of the gigantic stone tombs, whose lids require up to 100 people to lift. A few of the pigs, chickens and dogs who wander freely in the clearing will be sacrificed, then eaten. Dato invites us into the one-room bamboo hut where he was born, its ceiling black with soot from the open stove in the center of the floor. Before we leave, it's understood that we will buy a few traditional ikat cloths, woven by the women of the village. The kids run after us, laughing, as we return to the car and drive back to the resort in silence.
My final stop is Nusa Lembongan, a tiny island reachable by a 30-minute speedboat ride from Bali. If I came here at the start of the trip, it might have seemed like paradise on earth: My hotel, the 12-bungalow Nusa Lembongan Resort, overlooks a bay with water so clear that its schools of Technicolor fish seem suspended in space. But after Sumba, the place feels like an upscale Club Med, the pool empty except for a few Australian couples slathering each other with SPF 60. Fortunately the surf is pumping at an offshore break called Shipwrecks, where a friendly mix of Indonesians and Japanese jockey for position. And the resort facilities are clustered on a small stretch of coastline, so anyone craving an unspoiled island vibe has only to get on a mountain bike and ride a few hundred yards inland, as I do in late afternoon. While pedaling toward a sublime deserted cove called Dream Beach, I pass the front yard of a tiny wooden house, where a girl, five or six years old, greets me with the only two English phrases she seems to know, heartbreakingly juxtaposed: "I love you!" and "Bye-bye!"
The next morning, my last, the boatmen on the beach say the surf is best at a reef off nearby Senggigi Island. Before heading back to Bali for my evening flight to Los Angeles, I hire an outrigger for the 20-minute ride. At the reef there are a handful of young locals bobbing in the water, and, in a very un-California gesture that still stuns me, they all smile when I jump off the boat and paddle into their midst. After I ride one gorgeous, head-high wave and a few raindrops begin to fall, my mind fills with the thoughts that inevitably arise when a fantasy trip comes to an end. The inner monologue is interrupted by a sudden downpour—another ostensibly ordinary event that here, somehow, registers as a paranormal phenomenon. The raindrops are as heavy as marbles, and the water has turned an opaque gray; with each drop leaving its own giant splash, the ocean looks like an undulating field of shimmering crystals.
As the shower passes, one of the other surfers, a teenager who is wearing a wide-brim cloth hat, gives me a thumbs-up and says an Indonesian word that I've heard again and again on this trip but haven't fully comprehended: bagus. Literally, the word translates to "good," but it's one of those catchall terms used to convey everything from "beautiful" to "exciting."
The kid, it turns out, speaks English, so he offers me a loose translation of his own: "Great, happy, having fun."
Stoked, you might say.