New Gallerists on the Block
Two hot Parisian ­gallerists hit New York.
---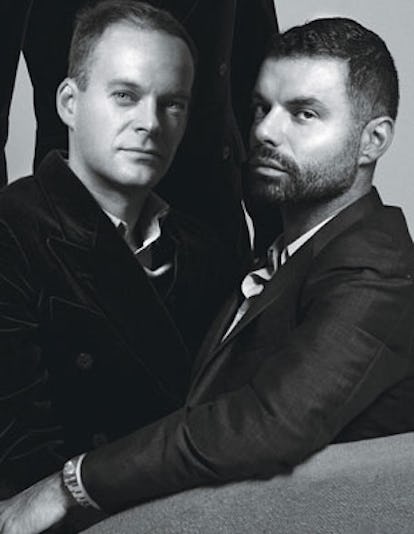 Going the extra mile for an artist is something any good gallerist will do. But how many would let one of their painters (in this case, Kerstin Brätsch) dress them up in exuberantly printed shirts for the whole of last year's Art Basel? (The tops referenced Brätsch's oversize oils in the gallery's booth.) How many would allow Nikolas Gambaroff to pile his paintings on top of a New York–based critic in the gallery's entrance? And who would permit Oscar Tuazon to ruin the floors of an exhibition space with an installation of concrete, steel, Plexiglas, and dripping water for a month and a half?
Green Bobbitt Portrait, 1993, from the "Kali Bobbitt" series by Mary Beth Edelson.
All this is just routine for Daniele Balice (above, right), 35, and Alexander Hertling (left), 33, the founders of the Balice Hertling gallery in Paris's eclectic Belleville neighborhood. Since 2007, the pair—from Bari, Italy, and Berlin, respectively—have livened up the ­area's rising art scene with a roster of precocious, mostly unknown talent. Their good deeds have paid off: Brätsch has gone on to show at New York's New Museum and the prestigious Art Association of Cologne; Gambaroff, to the Swiss Institute/Contemporary Art New York; and Tuazon, to London's Institute of Contemporary Arts and Paris's Palais de Tokyo.
Now, teaming up with former art critic and art historian David Lewis, Balice and Hertling are taking on New York: A show by Mary Beth Edelson debuts November 10 at the newly opened Balice Hertling & Lewis in Hell's Kitchen. "As a neighborhood, it's not cool at all," says Balice. "But where else can an artist find a beer for $1.50? Artists are the most important people—not the collectors. We wouldn't be anything without them."
Hertling and Balice: Remi Lamande; Green Bobbitt portrait: courtesy of Mary Beth Edelson Studio