Right To the Pointe
Mary Katrantzou and Carolina Herrera dress up the New York City Ballet.
---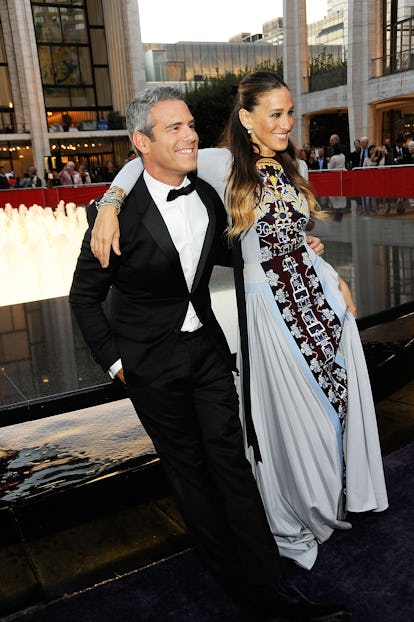 Photographer: Sherly Rabbani & Josephine Solimene
It may seem like all the stylish folks have departed en masse for Europe but the New York City Ballet's Fall Gala Tuesday in many ways doubled as a kind of fashion month rolled into one sparkling night. The main plaza and fountain of Lincoln Center were cordoned off and curious onlookers stood behind barricades watching a stream of socialites, dancers and designers parade along a purple carpeted catwalk, err, step and repeat, in their biggest, baddest ball gowns.
Inside, the fashion vibe was even stronger. Chaired by Cindy Chao, Trey and Jenny Laird, Marianne Lake and Sarah Jessica Parker, the latter of whom has been instrumental in bringing Seventh Avenue's finest to the David H Koch Theater, the event was billed as "Fashion's Back at the ballet 2014." And boy, was it ever. The program boasted five pairs of choreographers and designers: Justin Peck and Mary Katrantzou, Liam Scarlett and Sarah Burton, and Troy Schumacher and Thom Browne, all of whom collaborated on ballets having their world premieres; Christopher Wheeldon and Valentino Garavani, whose work was showcased in the acclaimed "Bitter Earth"; and Peter Martins and Carolina Herrera, the latter of whom created new costumes for Martins' pre-exisiting work "Morgen." Ambitious?
"We don't play it safe at the New York City Ballet," intoned Martins, the company's ballet master-in-chief, in an introductory video.
Katranztou—in town for less than a week—certainly gave the NYCB's Costume Director Marc Happel and his atelier a start when her lace letter appliques first arrived.
"He was like, What?! What on earth are you thinking?" exclaimed Katrantzou, who had communicated with Peck by phone and only saw the choreography three days prior to the work's premiere. "[Justin's] work is so subtle and it evokes so much emotion by the pairing of his dancers so I wanted to do something that was a second skin to the dancers, nothing constructed. I sent him this picture of something with the lace and he was like, It's like nothing I've ever seen before! And I took that as a compliment."
Parker begged modest on her role as mastermind—"My job is to make phone calls and send emails…and convince fashion designers that though the discipline is very different than what they're used to, they can do it"—and dismissed any notions that her injection of fashion into the more traditional ballet world was a play for a youthful audience.
"Half the people here tonight are above 40 years old and supporting the fashion industry as much as young people. I think fashion is for everybody. I don't think it's about the young. I think it's about the emerging and the established. And without the established, we don't have the emerging," said Parker. "Without a Carolina Herrera, we don't have a Mary Katrantzou. It's about visionaries and financial support and resources and stick-to-it-ness and tenacity and people believing in you and a point of view. And that can come from someone 68 and it can come from someone 28."
And it seems even someone of the establishment can experience the same jitters as an emerging force.
"Oh my god, I had to take a bow and my heart…!" exclaimed Herrera of her final bow on stage with the dancers. "It's quite something to be standing there."
Photos: Right To the Pointe
Andy Cohen and Sarah Jessica Parker.

Photographer: Sherly Rabbani & Josephine Solimene
Mary Katrantzou and Justin Peck.

Photographer: Sherly Rabbani & Josephine Solimene
Photographer: Sherly Rabbani & Josephine Solimene
Thom Browne and Andrew Bolton.

Photographer: Sherly Rabbani & Josephine Solimene
Photographer: Sherly Rabbani & Josephine Solimene
Mikhail Baryshnikov and Lisa Rinehart.

Photographer: Sherly Rabbani & Josephine Solimene
Photographer: Sherly Rabbani & Josephine Solimene
Peter Martins, Darci Kistler, and Albert Evans.

Photographer: Sherly Rabbani & Josephine Solimene
Photographer: Sherly Rabbani & Josephine Solimene
Photographer: Sherly Rabbani & Josephine Solimene
Photographer: Sherly Rabbani & Josephine Solimene
Photographer: Sherly Rabbani & Josephine Solimene
Bibhu Mohapatra and Dana Auslander.

Photographer: Sherly Rabbani & Josephine Solimene
Coco Kopelman and Jill Kargman.

Photographer: Sherly Rabbani & Josephine Solimene
Photographer: Sherly Rabbani & Josephine Solimene
Dorthee Wirth and Fe Fendi.

Photographer: Sherly Rabbani & Josephine Solimene
Photographer: Sherly Rabbani & Josephine Solimene