Ballot Curing: What It Is, and How You Can Help
It isn't too late to make sure every vote counts. In fact, it's as easy as sending a text.
---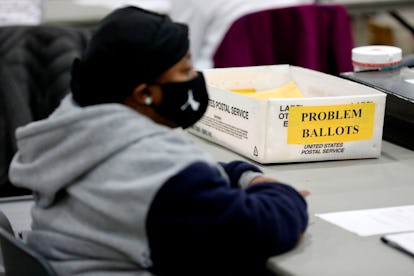 Jeff Kowalsky/AFP via Getty Images
Fifteen hours after the last of the polls closed, the only thing we know for sure about the winner of this year's presidential race is that it isn't Kanye West. But don't let Donald Trump fool you: The wait is a good sign. And it was to be expected, with the pandemic causing an unprecedented number of Americans to cast their votes by mail.
Agonizing as the wait may be, patience is key. So are distractions—one of which happens to help ensure that every vote counts. Here's everything you need to know about remote "ballot curing" and how to volunteer.
What is ballot curing?
More than 310,000 ballots were rejected in the 2016 presidential election. That number jumped to more than half a million during the primary elections earlier this year. But it's not too late to prevent a similar situation this election season. Voters can still fix, or "cure," their ballot issues, with a little help from voter advocacy groups and their volunteers.
Which states need help?
• North Carolina's 15 electoral votes are crucial for Trump. He currently has 50.1 percent of the tallied votes, though five percent of the estimated vote total has yet to be counted—ballots that were postmarked by Election Day can be counted up to November 12.
• Trump and Biden are also neck and neck in Nevada, which has six electoral votes. Eighty-six percent of the estimated total votes have been counted, and Biden is currently in the lead—though only by 0.6 percent.
• It's been 28 years since a Democrat won Georgia, but Biden is currently only behind by 1.8 percent. The state, which has 16 electoral votes, has so far tallied 93 percent of the estimated total.
Where do I start?
• NextGen America's phone banking initiative covers 11 battleground states, though it also offers state-specific options. The nonprofit uses Slack as its "virtual field office," with a #calling channel where a moderator provides daily instructions and fields your questions. Sign up here.
• The North Carolina Dems Voter Protection Team offers a particularly workday-friendly option; one of its two-hour phone-banking slots is 6-8 p.m. You can partake any time between tonight and the last day votes are counted, November 12. Training begins at the start of each shift. Sign up here.
• The Nevada Dems's phone-banking initiative has a similar set-up. The two-hour slots, which start as late as 10:30 p.m. EST, run through November 12. Keep an eye out for the next training event, and sign up here.
• To help out in Georgia, the Democratic Party's Voter Protection Team asks that you first watch a 48-minute training video. Sign up to receive it, and find out what comes next, here.
What if I'm phone-shy?
NextGen America also offers a text banking option. Read the Texting Team Guide, and after passing a brief quiz, you'll be added to two private Slack channels for instructions and questions. Essentially all you need to do is copy and paste each day's script, which are outlined here.