Sister Sister
In case you missed them, here are the top style news stories of the week.
---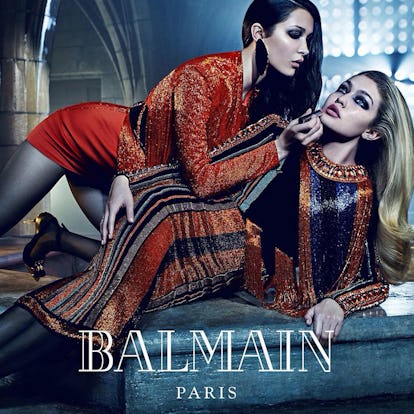 Alexander McQueen The brand reissued 3 pairs of its iconic armadillo boots for charity. Pretending to be Daphne Guinness just got that much easier.
Anderson, J. W. Is taking a page out of Karl Lagerfeld's book and giving Diet Coke a makeover. Next, Anderson will adopt a monochromatic uniform and only leave the house wearing sunglasses.
Armpit Hair Now comes in blue, green, pink, and purple, according to both The New York Times and anyone who rides the L train.
Atkin, Jen Kim Kardashian's hairdresser recommends taking hair vitamins if you want to look like a Kardashian.
Balmain Cast sister sets Gigi and Bella Hadid, Kendall and Kylie Jenner, and Joan and Erika Smalls in its super social fall 2015 campaign.
Bullock, Sandra Auctioned off 10 pairs of Minions-inspired Rupert Sanderson heels. Raised over $40,000 for charity. Take that, McQueen.
Burch, Tory Won $41.2 million in a case against counterfeiters. Could use the money to buy a hell of a lot of flats.
Depp, Lily-Rose Johnny Depp and Vanessa Paradis's daughter is the new face of Chanel eyewear. Surprise, surprise.
Dunham, Lena Is launching an email newsletter for GIRLS of all interests and accounts.
Jenner, Caitlyn Stole the show at the ESPYs in custom Versace.
Jenner, Kendall Wore a really, really, really low cut shirt. Found her way into this column for a second time.
Lawrence, Jennifer Revealed that she got a factually incorrect tattoo of H20 on her hand. And then she tripped over her Comic Con gown.
MAC Creating a collection inspired by the late singer Selena because the Internet told the brand to. Jennifer Lopez not yet cast in the ad campaign.
Madewell Debuted second collaboration of striped tees with Sezane just in time for Bastille day. Almost. It hit stores one day late.
Marciano, Paul It's a fact that Guess's CEO is stepping down.
Mulberry Cast Georgia May Jagger in the brand's new campaign. Wanted to remind you of just how British they really are.
Oprah Body shamed a reader, via her eponymous magazine.
Owen The Meatpacking boutique to shut down after two years. Offering empty paper bags as consolation.
Pejic, Andreja To be the subject of a new documentary. Your move, Caitlyn Jenner.
Perry, Katy Was revealed as the new face of H&M for the holidays. Because nothing's more appealing than Christmas in July.
Pilati, Stefano The former Yves Saint Laurent designer is leaving his current role at Agnona. The brand plans to try to poach Hedi Slimane next.
Rihanna Is now a contributing creative director for Stance, a line of socks. Next: Dior.
Saunders, Jonathan Stole a new CEO for his company from London-based designer Mary Katrantzou. It's a battle of the Brits.
Smith, Sam Is the star of the new Balenciaga campaign.
Sternberg, Amandla Provided Kylie Jenner with an education in the history of cornrows on Instagram.
Vince Lost both its CEO and Chief Creative Officer in one week. Tough break.
Zoe, Rachel Is getting a late night fashion talk show on Lifetime. Now's your chance to go to bed with Zoe.