Balmain's Olivier Rousteing Is Designing Costumes for Paris Opera Ballet Dancers
The young designer follows in the footsteps of Coco Chanel, Yves Saint Laurent, and Pierre Balmain.
---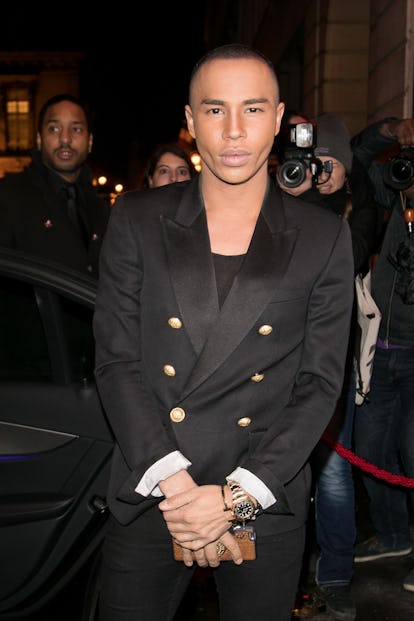 Getty Images
Balmain's creative director Olivier Rousteing is more closely associated with Beyoncé than ballet, but that might soon change. As WWD reports, the designer will be creating costumes for the Paris Opera, outfitting a troupe led by dancer and choreographer Sébastien Bertaud for an upcoming piece dubbed "Renaissance" this June. "My ambition is to create a classical ballet for today, so the idea was to be able to continue mining that DNA while looking to the future," Bertaud said in an interview with WWD. "For me, Olivier was the only person today who shares the same approach of innovating while respecting traditional techniques."
Though the 31-year-old designer is best known for dressing the Hadids, Jenners, and Kardashians — aka the Balmain Army — his latest client gives Balmain some serious cultural capital. Luckily, Rousteing is equally comfortable in both worlds. "Obviously I love the world of pop, but for me, it all goes back to classical dance. I've been fascinated with it since I was a child," Rousteing told WWD. "With the world of the Opera, we are opening up a new sector and a new era for Balmain. It's a really nice validation of my style and a way of showing you can remain international even while being very Parisian."
Rousteing is obviously on to something. Fashion and ballet are natural dance partners — both art forms revolve around the ways the human body can move. "When you dress someone like Beyoncé, you have to understand every dance move she makes during every minute of her show," Rousteing said. "When you learn how to work with Sébastien and the principal dancers, it's more or less the same process but you learn different movements."
The Balmain ballet collaboration isn't the first of its kind — designers have a history of designing for major dance companies. This season, the New York City Ballet for example, has featured costumes by runway heavy hitters including Narciso Rodriguez, Jason Wu, Rosie Assoulin, and Dries Van Noten. Balmain is just the latest label to join the ranks of legendary designers creating costumes for the Paris Opera Ballet including Coco Chanel, Karl Lagerfeld, Yves Saint Laurent, and Pierre Balmain himself. Christian Lacroix just recently created dreamy, romantic costumes for the Paris Opera's production of "A Midsummer Night's Dream."
For the Paris Opera collaboration, the creative dialogue went both ways, with Rousteing drawing inspiration from dance and Bertaud drawing inspiration from the early Balmain sketches. The result is sure to be a seriously chic performance that brings the Balmain glamour. "We created costumes that combine an element of the classical world of dance with a sexy, sensual and glamorous Balmain twist," Rousteing said.
No word yet on whether the influence of the Opera will make it into Rousteing's next runway collection, but we'd be down to see the Balmain Army outfitted in tutus and toe shoes.
Related: Balmain's Olivier Rousteing: Phresh Out the Runway
10 Ways to Wear Balmain's Racy Military-Inspired Look:
Gigi Hadid, Kendall Jenner, and the Rest of the Balmain Army Go Grunge For Fall 2017
Backstage before the presentation of Balmain's fall/winter 2017 collection, presented during Paris Fashion Week. Photo by Ambra Vernuccio.

AMBRA VERNUCCIO
Backstage before the presentation of Balmain's fall/winter 2017 collection, presented during Paris Fashion Week. Photo by Ambra Vernuccio.

AMBRA VERNUCCIO
Backstage before the presentation of Balmain's fall/winter 2017 collection, presented during Paris Fashion Week. Photo by Ambra Vernuccio.

AMBRA VERNUCCIO
Backstage before the presentation of Balmain's fall/winter 2017 collection, presented during Paris Fashion Week. Photo by Ambra Vernuccio.

AMBRA VERNUCCIO
Backstage before the presentation of Balmain's fall/winter 2017 collection, presented during Paris Fashion Week. Photo by Ambra Vernuccio.

AMBRA VERNUCCIO
Backstage before the presentation of Balmain's fall/winter 2017 collection, presented during Paris Fashion Week. Photo by Ambra Vernuccio.

AMBRA VERNUCCIO
Backstage before the presentation of Balmain's fall/winter 2017 collection, presented during Paris Fashion Week. Photo by Ambra Vernuccio.

AMBRA VERNUCCIO
Backstage before the presentation of Balmain's fall/winter 2017 collection, presented during Paris Fashion Week. Photo by Ambra Vernuccio.

AMBRA VERNUCCIO
Backstage before the presentation of Balmain's fall/winter 2017 collection, presented during Paris Fashion Week. Photo by Ambra Vernuccio.

AMBRA VERNUCCIO
Backstage before the presentation of Balmain's fall/winter 2017 collection, presented during Paris Fashion Week. Photo by Ambra Vernuccio.

AMBRA VERNUCCIO
Backstage before the presentation of Balmain's fall/winter 2017 collection, presented during Paris Fashion Week. Photo by Ambra Vernuccio.

AMBRA VERNUCCIO
Backstage before the presentation of Balmain's fall/winter 2017 collection, presented during Paris Fashion Week. Photo by Ambra Vernuccio.

AMBRA VERNUCCIO
Backstage before the presentation of Balmain's fall/winter 2017 collection, presented during Paris Fashion Week. Photo by Ambra Vernuccio.

AMBRA VERNUCCIO
Backstage before the presentation of Balmain's fall/winter 2017 collection, presented during Paris Fashion Week. Photo by Ambra Vernuccio.

AMBRA VERNUCCIO
Backstage before the presentation of Balmain's fall/winter 2017 collection, presented during Paris Fashion Week. Photo by Ambra Vernuccio.

AMBRA VERNUCCIO
Backstage before the presentation of Balmain's fall/winter 2017 collection, presented during Paris Fashion Week. Photo by Ambra Vernuccio.

AMBRA VERNUCCIO
Backstage before the presentation of Balmain's fall/winter 2017 collection, presented during Paris Fashion Week. Photo by Ambra Vernuccio.

AMBRA VERNUCCIO
Backstage before the presentation of Balmain's fall/winter 2017 collection, presented during Paris Fashion Week. Photo by Ambra Vernuccio.

AMBRA VERNUCCIO
Backstage before the presentation of Balmain's fall/winter 2017 collection, presented during Paris Fashion Week. Photo by Ambra Vernuccio.

AMBRA VERNUCCIO
Backstage before the presentation of Balmain's fall/winter 2017 collection, presented during Paris Fashion Week. Photo by Ambra Vernuccio.

AMBRA VERNUCCIO
Backstage before the presentation of Balmain's fall/winter 2017 collection, presented during Paris Fashion Week. Photo by Ambra Vernuccio.

AMBRA VERNUCCIO
Backstage before the presentation of Balmain's fall/winter 2017 collection, presented during Paris Fashion Week. Photo by Ambra Vernuccio.

AMBRA VERNUCCIO
Backstage before the presentation of Balmain's fall/winter 2017 collection, presented during Paris Fashion Week. Photo by Ambra Vernuccio.

AMBRA VERNUCCIO
Backstage before the presentation of Balmain's fall/winter 2017 collection, presented during Paris Fashion Week. Photo by Ambra Vernuccio.

AMBRA VERNUCCIO
Backstage before the presentation of Balmain's fall/winter 2017 collection, presented during Paris Fashion Week. Photo by Ambra Vernuccio.

AMBRA VERNUCCIO
Backstage before the presentation of Balmain's fall/winter 2017 collection, presented during Paris Fashion Week. Photo by Ambra Vernuccio.

AMBRA VERNUCCIO
Backstage before the presentation of Balmain's fall/winter 2017 collection, presented during Paris Fashion Week. Photo by Ambra Vernuccio.

AMBRA VERNUCCIO
Backstage before the presentation of Balmain's fall/winter 2017 collection, presented during Paris Fashion Week. Photo by Ambra Vernuccio.

AMBRA VERNUCCIO
Backstage before the presentation of Balmain's fall/winter 2017 collection, presented during Paris Fashion Week. Photo by Ambra Vernuccio.

AMBRA VERNUCCIO
Backstage before the presentation of Balmain's fall/winter 2017 collection, presented during Paris Fashion Week. Photo by Ambra Vernuccio.

AMBRA VERNUCCIO