Big News for Balmain — and for David Lynch
David Lynch starts a music festival featuring Twin Peaks guest star Sky Ferreira, and Valentino's Qatari owner purchases Balmain
---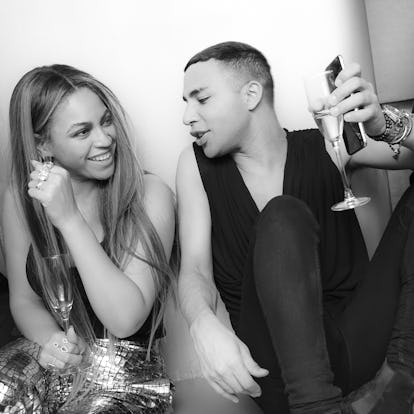 Anderson, Jonathan The Loewe creative director designed Rufus Wainwright's sparkly red costume for his two-night residency at Carnegie Hall performing Rufus Does Judy — but their relationship goes way back, to when Anderson and Wainwright dated while Anderson was in fashion school.
Balmain Kim Kardashian's favorite label has been bought by a Qatari investment firm, which also owns Valentino, with ties to the country's emir.
Beckham, Victoria The latest celebrity to speak out against the Brexit — as the referendum looms Thursday, the fashion world has increasingly come out in opposition to the movement to leave the European Union.
Brownstein, Carrie Making her directorial debut with a film for Kenzo, and she's recruited an all-star team backing her up including Rowan Blanchard, Natasha Lyonne, and Kim Gordon.
Hana The Grimes-, Shamir-, and Lorde-approved star reinvents herself — and this time, she's here to stay.
Khouri, Ana With 15 years' experience in the jewelry design game, Khouri branches out with a bridal collection for Barneys New York. Here, she offers an exclusive look at the jewels before they launch.
Lynch, David The Twin Peaks creator is launching the Festival of Disruption, a music festival featuring St. Vincent, Questlove, and guest star of the Twin Peaks reboot Sky Ferreira. It's an eclectic lineup (and also includes the musician who scored Twin Peaks), but somehow we think in Lynch's hands it might work.
Meadows, The On the other coast, Panorama should be watching its back: The creators of the Governor's Ball music festival have announced a new festival called The Meadows, which will take place in Queens in October. The Coachella founders are messing with the wrong team.
Obama, Michelle The extremely socially savvy FLOTUS enters new territory: Snapchat.
Balmain's Olivier Rousteing Parties in Seoul