In Bed With Australian Model Bambi Northwood-Blyth
Together with her husband, Dan Single, the bombshell launched a new luxury sleepwear line, P.Jamé.
---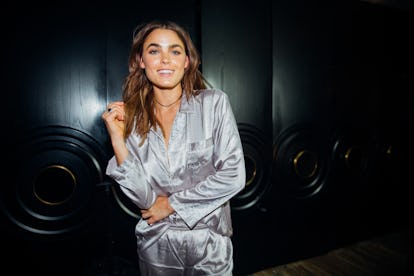 Australian model Bambi Northwood-Blyth — discovered around five years ago for her incredibly thick brows — is now living the dream. Together with her husband, Ksubi denim founder Dan Single, the handsome couple launched a sleepwear line called P.Jamé [pronounced p-jar-may] during Australia Fashion Week with a pajama party Wednesday night in Sydney. All their prettiest friends were there, including model Winnie Harlow, who willingly engaged in a playful pillow fight. With the sleepwear trend currently taking the fashion world by storm, it's safe to say that Single and Northwood-Blyth will be sleeping soundly.
When did you decide you wanted to start P.Jamé with your husband? I once heard that on average a person spends 30 percent of their life sleeping, so why not sleep in luxury! Every time I looked for pajamas, I knew what I wanted in my mind, but could never find it. So Dan and I decided to make some that we liked. We found there was a real gap in the market for high-quality, cool, sexy pajamas that don't break the bank. But we don't just design P.Jamé — we also work together in tech as ambassadors for Clapit, a new social media company. We just embrace new challenges that come our way whenever we stumble across something cool that's breaking new ground, or if there's a blank space we think we could help fill.
Before bed routine: Mint tea, kiss Dan, wash the face, have a night cap.
Do you use any products to help you fall asleep? I love melatonin; it's great when I'm flying. Also after a huge day shooting, I put on a hydrating Kiehl's mask and an Ecoya candle to set the chill vibes.
Morning routine: Apple cider vinegar and cayenne peper shot, Bodni beach to breathe or yoga, cold drip coffee, then charge!
Ideal breakfast: Smoothies or egg whites.
Best breakfast/brunch spots in Sydney, Australia: Lox Stocks and Barrel, Porch and Parlour, or Icebergs at Bondi dining room and bar on a weekend.
Favorite places to stay out late in Sydney, Australia: Mr. Wong's for late night dumplings and drinks. Otherwise the Ivy for dancing. Plus Icebergs at Bondi or any of the Merivale venues. Theres nothing better!
Where you tell your friends to stay/sleep in Sydney, Australia: Establishment Hotel.
Nighttime beauty secret: Rosewater and Kiehl's midnight rescue. Plus La Mer on fleek.
Watch W's most popular videos here:
Pillow Fight! Inside Bambi Northwood-Blyth's Pajama Party
Bambi Northwood-Blyth and Dan Single.
Photo courtesy P.JAMÉ.
Winnie Harlow.
Photo courtesy P.JAMÉ.
Bambi Northwood-Blyth and friends.
Photo courtesy P.JAMÉ.
Bambi Northwood-Blyth. Photo by Melodie Jeng.
Winnie Harlow.
Photo by Melodie Jeng.