Under the Skin
Pop's favorite tattoo artist, the self-proclaimed Bang Bang, dishes on his new book.
---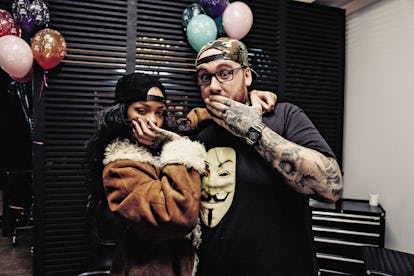 Keith "Bang Bang" McCurdy may have caused a stir this week for tattooing (and being tattooed by) Kylie Jenner, but the reality star is hardly his first celebrity client. Before working on the youngest Jenner, Bang Bang tattooed Justin Bieber on a private plane, Cara Delevingne after the Met Gala, and Rihanna all over the world. His elaborate designs are now the subject of his first book, My Life in Ink (Dey Street Books), out November 17th. His clients already approve—the Bad Gal herself wrote the foreword while Katy Perry, Demi Lovato and Rita Ora contributed blurbs.
What made you want to write this book? I feel like I never gave much thought to my life as story and never thought of it as the American dream. But that's the reaction I get after telling people about it. I had a single mother that was a stripper and then I moved to New York City to tattoo. Now I'm tattooing celebrities.
Rihanna writes a glowing forward. When did you first meet her and what is your favorite thing about her? I first met her at a dingy tattoo shop on 6th Ave and W 4th. I didn't know who she was and just thought she was some singer. She was doing an interview and I thought the person interviewing her was really annoying. Rihanna noticed that and liked it. My favorite thing about Rihanna is her authenticity. I know a lot of famous people and they aren't always what they appear to be. Rihanna is always herself. She's very confident in herself and it's given me the courage to be who I want to be.
Do you ever get nervous tattooing famous people? What's the difference between tattooing VIPs versus everyday people? There is no difference between tattooing famous people and everyday people. My job is stressful enough; I can't add more pressure to it. Once I start, it's just skin. Skin is where I'm confident. Skin is what I'm good at.
You're famous for allowing celebrities (like Miley Cyrus and Katy Perry) to tattoo you. Do you ever regret those? I never regret the tattoos celebrities do on me because they are great memories. They are like my autographs and instead of keeping them in a trophy case; I keep them on my body. I regret more the people I haven't had a chance to tattoo yet because of conflicting schedules. I've been waiting to do Vanessa Hudgens, Demi Lovato, Selena Gomez and LeBron James. If I ask someone to tattoo me back, I don't charge them.
We loved your temporary work on Cara Delevingne at the Met Gala—your first time doing a temporary tattoo. Do you think you would do something like that again? I would do it again given the right opportunity and the right time. It was a crazy opportunity to have my work along fashion's biggest influencers.
This book touches on a lot of different topics—your early life, teaching yourself how to tattoo, and your amazing career—and you share some tough moments. What made you want to be so honest? It's an odd thing to put your whole life in a book. I had to take it one step at a time and what events took me from one place to the next. Everything I touched on was a big part of my life. It wasn't my intent to get into every detail of my life. The book publishers wanted it to be a book to read instead of a coffee table book or a picture book. I don't think of my story and how it all played out. I learned a lot about myself after writing the book. I hope that it touches the people that are reading it and helps them to follow their gut and go after their dream.
Aspiring tattoo artists, sports fans, fashion fans—there are so many people who could get into this book. Who did you initially write it for? And what do you hope people take away from it? My goal in my industry is to appeal to everyone and be inclusive. I wrote it for anyone that is interested in my story or tattooing: my friends, family, peers. But most of all, I wrote it for myself. I wasn't thinking much about others during the process. It was a huge challenge for me and I really love being challenged.
You cover a lot of your past in the book. But what's coming up next for you? The biggest thing I've ever done is always coming up next. The next move is my best move. I'm exploring different avenues, opening shops in other cities, discussing collaborations. I'm exploring and seeing where it takes me.
Rihanna and Bang Bang. Courtesy of the artist.
Cara Delevingne. Courtesy of Bang Bang.
Justin Bieber leaves his mark on Bang Bang. Courtesy of the artist.
Rita Ora. Photo by Norval Ramirez.
Bang Bang prepares Cara Delevingne for the 2015 Met Gala. Photo by Gurber Mathews Photography.
Rihanna. Courtesy of Bang Bang.
Katy Perry tattoos Bang Bang. Courtesy of the artist.
Bang Bang. Courtesy of the subject.
Rihanna. Courtesy of Bang Bang.