Fringe Is In: Why Bangs Are (Still) the Hairstyle of Summer
Bangs may seem like a high maintenance haircut, but fringe – the longer, cooler version – is ideal for the relaxed summer season.
---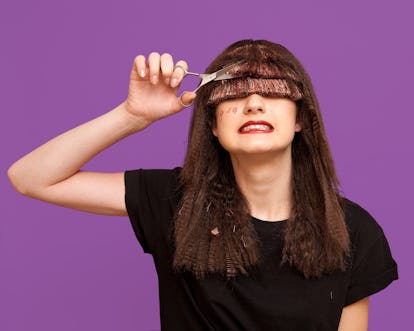 Photo by Olivia Locher.
If you look up "fringe" in the dictionary, you'll likely find: "synonym to 'bangs'" or, more to the point, "See 'Bangs. '"
"We don't use the word 'bangs' in England," says ex-pat Tim Rogers, hairstylist at the Sally Hershberger salon. "Fringe describes bangs, too."
"Bangs is an American term," seconds Garren, an American hairstylist, so he knows… "But fringe is more sophisticated word. I say 'fringe.'"
But throw us a bone, guys. There is a difference, right?
"Yes. When I think of fringe, I think of different design lines, different proportions, different thickness," continues Garren. "Fringe moves its shape and is very mobile whereas a bang is precise and very perfect. I always thought Kate Moss had a fringe. It was never a bang. And that's because it was sexy."
So, fringe is the looser, more grown-out bang. It's the flower child to the proper lady, the Bennington art major to Harvard MBA. If you take a bang, let it grow, remove any right angle, and maybe even let it air-dry, you've got fringe. And, this being the season of lazy and relaxed, fringe is in.
The original poster child of fringe is arguably the cooler-than-cool Jane Birkin, although Françoise Hardy could have beaten her to it, given that she's two years older. Tracking down who was responsible for their respective fringe cuts proved rather tricky. "It was probably done on a film set," suggests Garren. We'll go with that.
Rogers points to a fringe icon of a later decade when asked who idealized the look for him. "My favorite was Valerie Perrine, that TV actress from the 70s," he says. "Her fringe grazed the top of her nose right at the brow, but then it was really long at the corner, almost to the jaw. They were really feathery and really sexy."
Rogers believes fringe's current popularity has something to do with its flexibility: "The girls in the salon want that kind of hybrid today because it's less of a commitment. Only the center is shorter, but the longer corners can be brushed over to the sides more easily."
Over his illustrious career, which includes cutting Victoria Beckham's pixie and Karlie Kloss's lob, Garren can't remember a model he hasn't fringed. "Amber, Linda, all those girls back in the day," he recalls. "Even Naomi."
One former French first lady stands out, though.
"When we gave fringe to Carla Bruni, it took her from a Versace model to a full-on cool chick," says Garren, though he admits there are exceptions. "I'd never put a fringe on Gisele. It would not make her look cool. It's the way she moves her hair around. You could do it for a little while, like we've faked it on her for shoots, but it would swallow her face up. It's the same with Lea Michele. She has eyes like Sofia Loren. You want to see that brow. Lea's bangs were too heavy; they just mushroomed her."
He sums it up with a simple geometry lesson. "In the old days, they used to say that anyone with a full, wide face can't wear bangs. But yes, they can. So long as the bangs are short enough," he explains. "You're adding length to the face, so you're changing the measurements of the face to the eye. Not for real, of course, but if you look at the woman's face, it all changes."
Rogers believes fringe can be advantageous for those who've had other hair issues. "Often times if you have a cowlick, a fringe can really help. If you put enough weight into the section of hair that you're cutting into, fringe can weigh a cowlick down and kind of trick it," he explains. "Just don't try to do this yourself. If done the wrong way you can exacerbate the problem and end up with celery stalks on your head."
Even the curly-haired get fringed now, thanks to the likes of model Mica Arganaraz, though Rogers alerts stylists to take ringlets into account when they cut. "If the hair has any frizz texture to it, then you have to allow for bounce, obviously leaving those pieces longer."
Perhaps it's part Argaranaz, part Sia and part Selena Gomez, but Garren has a more general anthropological viewpoint. "When we want to make a statement in fashion, we whack it off. Every time we go too conservative, we throw a fringe or a bang on hair. It's almost like a stamp," he says. "Even at a time when everyone's currently going back to one length, putting a fringe on it, it just makes it sexier, and it makes you different."
The interesting thing about fringe is how transitory it usually is. Aside from Caroline de Maigret and Stevie Nicks, it doesn't tend to stick around for very long. "I cut fringe into Julia Stegner recently and turned her into a rocker chick," recalls Garren. "She's growing it out now."
Watch the first episode of "The Myth of Orpheus and Eurydice," a four-part film series by Gia Coppola, here. Produced for Gucci by W magazine.