Everything You Need to Know About Bangs
7 hairstylist reveal their secrets for having bangs.
---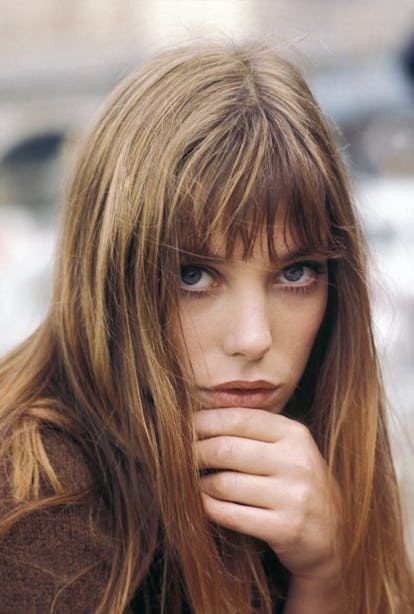 1. Take Baby Steps "Start slow; don't do a lot at first," suggests Bumble and bumble's Jimmy Paul to bang virgins. "See how a few wispy bangs look first. You can always do more if you love it, and if you don't, you can just push them aside." That said, Paul loves how bangs can also function as a curtain. "They're great to hide behind, and they're gentler on your forehead than Botox."
2. Go Long at First "Start off a little longer than you think," advises James Pecis. "Hair always shrinks and retracts, especially if it's cut wet or has a natural wave. You can always cut more," he says. "When they're too short, you feel exposed—sort of like forgetting to wear pants in the morning."
3. Bangs Can Be the Best of Both Worlds "If you have long hair but don't want to cut it all off, bangs are a great way to make a big change while keeping the length," says Orlando Pita. "I tend to prefer long, sexy bangs, anyway."
4. Consider a Cowlick "If you have a cowlick, don't get a straight fringe," warns Pecis. "Unless you're ready for the constant maintenance of fighting the cowlick every morning."
5. Plan Ahead "Ask your Stylist for A 'grow out' clause," says Sally Hershberger. "Some bangs, if they're long enough, can blend into layers in a matter of one haircut cycle."
6. Embrace Your Natural Texture "I love curly hair with bangs," says Paul. "It's a look that's not for the faint of heart, but it's wildly fashionable. I also love a wide, thick bang, but that's really a commitment. It's the hardest to grow out."
7. Go Against the Grain "Blow drying them yourself takes practice," says D.J. Quintero of Serge Normant at John Frieda. "When you're drying them, guide them in the opposite direction that they naturally fall."
8. Bangs First "I always begin with the bangs [in a blow out], for two reasons," says Bricel Perez of DreamDry Blow Bar in New York's Flatiron district. "First, I want to tame annoying cowlicks while they're still wet. But, for stylists, doing them first also means we still have the clients' attention. That way, we can ask how she likes them to look before she loses focus and goes back to her phone."
9. Spray. Stay. "I always finish with a bit of hair spray when I'm done," says Serge Normant, who taps his Meta Luxe Hair Spray. "It's kind of insurance that they won't misdirect. Just don't use a heavy, wet spritz."
10. It's Just Hair "We're going through a short fringe moment right now," says Pecis, who uses Oribe Matte Waves Texture Lotion. "This season of shows had a surprising amount of girls who went for the above eyebrow chop. Hair grows back. Cut a fringe and be cool."
Watch W's most popular videos here:
Photos: Everything You Need to Know About Bangs
Jane Birkin, circa 1960. Photo by Reporters Associés/Gamma-Rapho via Getty Images.
Penelope Cruz at a photocall for Volver a nacer in Madrid, Spain, January 2013. Photo by Eduardo Parra/FilmMagic.
Michelle Williams at the 2015 InStyle Awards. Photo by Getty Images.
Rashida Jones in Malibu, California, August 2013. Photo by Getty Images.
Taylor Swift at the 2016 Vanity Fair Oscar Party. Photo by Getty Images.
James Pecis recommends: Oribe Matte Waves Texture Lotion, $42, oribe.com.
Mica Arganaraz walks Isabel Marant during Paris Fashion Week Fall 2015. Photo by Miguel Media/AFP/Getty Images.
Michelle Obama at the presidential inauguration in 2013. Photo by Getty Images.
Naomi Campbell in 2014. Photo by J. Vespa/WireImage.
Orlando Pita recommends: Orlando Pita Play Up the Gloss weightless polishing cream, $26, ulta.com.
Beyoncé Knowles in Brooklyn, November 2012. Photo by Getty Images.
Rose Byrne in Sydney, Australia, March 2012. Photo by Getty Images.
Sally Hershberger recommends: Sally Hershberger 24K Supreme Body Volumizing Mousse, $32, sephora.com.
Chrissie Hynde, lead singer of The Pretenders, in London, England, January 1979. Photo by Fin Costello/Redferns.
Jennifer Lopez in New York, July 2009. Photo by Getty Images.
Serge Normant recommends: Serge Normant Meta Luxe Hairspray, $25, nordstrom.com.
Bettie Page circa 1952. Photo by Getty Images.
Penelope Tree in February 1973. Photo by Tim Graham/Evening Standard/Getty Images.