Inside Banksy's New Hotel in the West Bank, There's Some Brilliant Provocation
Banksy's new art hotel in Bethlehem has a whole new set of visitors making the pilgrimage.
---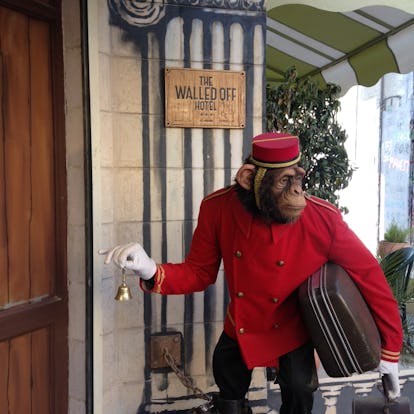 Courtesy of @dr.rana.halaseh
For an artist who's known for being untrackable, Banksy has set up a curious number of permanent, high-visibility establishments in the last few years. In 2015, he unveiled Dismaland, a "family theme park unsuitable for small children" complete with slides made out of riot control vehicles, bumper cars topped off with grim reapers, and other dystopian imaginations from no less than 58 artists, from Jenny Holzer to Damien Hirst. His latest, though, is a bit more hospitable: As of a few weeks ago, his admirers can stay in the nine rooms that make up the Walled Off Hotel, a lodging that costs anywhere between $30 and a lush $1,000, and which can be found across from the Israeli security barrier in Bethlehem, in the West Bank.
That might not sound like the most peaceful place for a getaway, but there are plenty of oddball distractions, like a hirsute bellhop waiting outdoors, and plenty of the artist's typical cheekiness both inside and out, from a Basquiat-esque canvas signed "Banksiat" to spray-painted street signs that read "Walled Street."
Plus, it's not just a hotel: there's also a gallery, a bookstore, a museum filled with protest signs, and, for the price of $20, an endless amount of real estate for spray painting. The hotel is, after all, surrounded by Israel's separation wall from Palestine—which all of the rooms face—making for some interesting merch in the hotel's aptly named gift shop, Wall*Mart. Along with cans of spray paint, it sells shirts reading "The Worst View in the World"—not that that's stopped any visitors from Instagramming it.
See W's most popular videos: