Against Trump, Le Pen, Brexit: Banksy's New Mural in England Is the Latest of the Recent Wave of Political Protest Art
Just a few days after Marilyn Minter's "Resist" flag was taken down in New York, Banksy's new mural proves protest art is alive and well overseas.
---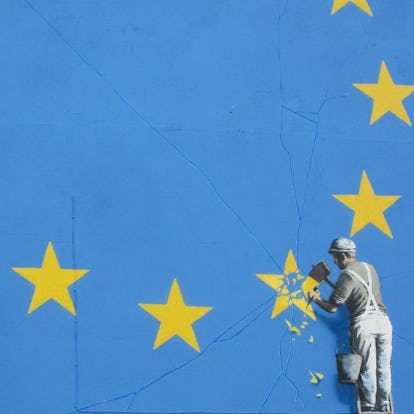 Courtesy of @banksy
Given Banksy's track record of, say, graffitiing images of child sweatshop workers and installing a dummy of a Guantanamo Bay prisoner inside Disneyland, it comes as something as a surprise that the artist has so far abstained from making a public comment on Brexit. Nearly a year after it was announced that Britain would leave the European Union, though, the mysterious artist has unveiled his message. Overnight on Monday, he installed a giant mural in Dover, England depicting a man chiseling away at one of the 12 stars on the E.U.'s flag.
The news also serves to confirm that Banksy hasn't turned his back on art to become a hotelier; indeed, the Walled Off Hotel, his new lodgings in Bethlehem on the West Bank, bear a certain similarity to his latest political act. Featuring what he calls "the worst view in the world," the hotel overlooks the towering wall separating Israel from Palestine—a separation as deeply fraught as Bansky's choice of Dover, rather than London, for the mural. A coastal town in Kent, Dover is home to a ferry terminal (found nearby the mural) which connects the United Kingdom with mainland Europe.
Plus, it's familiar ground for Banksy: Dover is just across the English Channel from Calais, a port city in northern France that's home to an expansive refugee camp where, in 2015, Banksy installed another set of public works, from a refugee-laden version of Théodore Géricault's The Raft of the Medusa to a portrait of the son of a Syrian immigrant, one Steve Jobs. (He also put up another mural, in London, in response to French police's tear-gassing of some of Calais's thousands of migrants.)
Still, Banksy is behind the field in addressing Brexit, with most artists like Wolfgang Tillmans, and certainly those in the fashion industry, raising their arms when the referendum results came through last summer (only to go mostly dark since then). There's still time for protest, though; Brexit isn't set to officially go through until April 2019, and as even those who don't read the news can tell you, Prime Minister Theresa May's call for a general election this June will no doubt influence the way things pan out, too.
In Response to Brexit, Londoners Take to the Streets
After all, the mural arrives at a time when there's no shortage of artists speaking out, from Asia to Europe to the U.S. Marine Le Pen's sound defeat by Emmanuel Macron in the French presidential elections followed a week during which French cultural organizations marched in protest and the French-Algerian artist Kader Attia opened an exhibition of anti-racist poems at his gallery La Colonie in Paris. And over the weekend, Ai Weiwei published an op-ed on censorship in China, where his name is banned from the media and he's barred from both speaking in public and traveling around the country. That was just a few days after Marilyn Minter's giant "RESIST" flag was taken down from its perch next to the American flag in midtown Manhattan after a matter of hours—the same day Trump happened to be in town. Like Minter's flag, Banksy's mural seems poised to incite its own protest, but with its installation unveiled immediately following Le Pen's defeat, it also feels imbued with a sense of cautious optimism.
Related: Inside Banksy's New Hotel in the West Bank, There's Some Brilliant Provocation
I Am an Immigrant: See 80-Plus Celebrities Stand Up for Human Rights