Bao Bao
A fixture on Hong Kong's social scene, Bao Bao Wan is unveiling a new line of jewelry.
---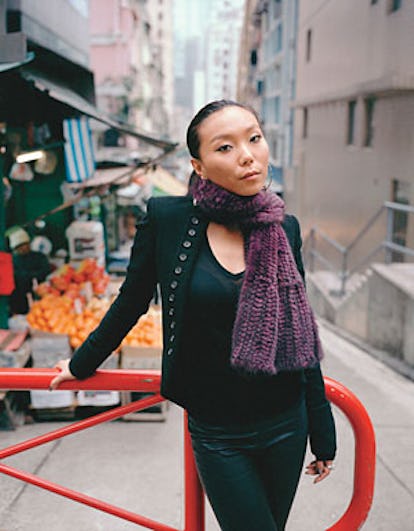 One evening last December, Bao Bao Wan strode into the lobby of the Landmark Mandarin Oriental in Hong Kong, looking like a party chick–meets–Harajuku girl. Sporting coarse strands of long, blond-streaked hair and baggy camouflage pants, she had just come from posing for skin-obsessed lensman Terry Richardson, who was in town for the opening of his show "From Rio to Hong Kong" at the Diesel gallery just across the street. "Five minutes in, and my top was off. It all happened very quickly," she says. "But I covered myself—no nipple. If that had happened, the Hong Kong press would go crazy."
Bao Bao Wan's 18k white gold, black South Sea pearl, and brown and white diamond ring, $6,640, baobaowan.com.
Since Wan, 26, became one of the first Chinese women to debut at the Crillon Ball in Paris in 2003, she has been an anomaly among the social set, especially in Hong Kong, where she now lives. In a town full of action-film actors, pop stars and prim socialite wives, Wan's profile is decidedly different. A child of China's Communist ruling elite—her grandfather was vice premier of the country for most of the Eighties—Wan is at once a social darling, gossip-page fodder, pop philosopher and, now, jewelry designer. With a fierce disdain for the status quo, she is mischievous but never quite crosses the line. Hence, she'll get partly naked for a hip, brand-name photographer yet knows when to say when.
This subtle temperance can be lost in a tabloid society in which Wan's outgoing personality, sometimes-vampish visual appearance and hard-drinking party-girl antics have made her the subject of particular fascination. On more than a few occasions, she's been photographed in public while drinking, smoking and canoodling with boyfriends. She also dresses to be noticed. At last fall's Fendi fashion show at the Great Wall, for example, she wafted through the crowd—which included starlets, New York socials and Karl Lagerfeld—clad in electric blue thigh-high Roberto Cavalli boots and a white fur coat of her own design. "I'm a really weird creature," says Wan. "No one knows how I was created."
Obviously Wan doesn't have a problem speaking her mind. "Bao Bao is very open and straight to the point," says Shanghai gallerist and fellow socialite-in-crime Pearl Lam. "If you grow up in a political family, you learn not to show what you think most of the time. But she's not like that. She has a lot of sex appeal, and she's totally outrageous."
The granddaughter of Wan Li, whose last official post was chairman of the National People's Congress from 1988 to 1993, Wan is a descendant of one of the country's most influential families. "Everything she does is watched with a magnifying glass, from her outfit to a love interest to a friend," says Joanne Ooi, the creative director of Shanghai Tang and a close pal. "What I love about Bao Bao is that she is a modern and liberated Chinese woman, which is really rare."
Bao Bao Wan's 18k white gold, South Sea pearl, ruby and diamond earrings, $7,670.
Born and raised in Beijing, Wan has been a contrarian from the beginning. After a childhood filled with servants, chauffeurs and dinner guests including high-ranking Communist officials, she was desperate to leave Beijing as a teenager. So at 16, she asked her parents to send her abroad. On the recommendation of friends, Wan uprooted herself and moved across the world to Dobbs Ferry, New York, to finish high school. In the shift from China's capital to the suburban enclave, "everything changed," she says, explaining how dramatic the move was for her. "You've got to get beaten up a little bit to grow up."
Although she had been to the U.S. several times by that point, Wan claims to have been unprepared for the sheer level of WASP-iness she encountered in Dobbs Ferry. But she stuck it out, and after graduating she remained in the States, enrolling at Sarah Lawrence College to study photography and French literature. She also spent a year studying in Paris—a longtime dream. When she was 12, she had read Alexandre Dumas's The Lady of the Camellias and was so enchanted with the story that she longed to live in Paris and learn French, in which she is now conversant. "French is explicit in its expression," says Wan, "and more romantic than English."
Certainly that belief influenced her approach to her new jewelry collection, Bao Bao Wan Fine Jewelry, in which various groups all have French names such as La Coquetterie and L'Action d'Amour—even those inspired by her youth in China. For example, the L'Amour Paradoxal group features a ring that resembles a butterfly alighting from a piece of bamboo.
While one could view the line as the handiwork of yet another bored young socialite, Wan has been steadily working up to this point: She earned a degree at the Gemological Institute of America in 2006 and has made a capital investment in the business.
Bao Bao Wan's 18k yellow gold and black, fancy colored, and white diamond cuff, $33,730, baobaowan.com.
But for someone as fashion-crazed as she, why not go the frock route? "Jewelry is more timeless," she says.
The notions of timelessness and tradition figure prominently in Wan's new baubles. Eschewing the usual jewelry-speak, she describes her line as merely a direct reflection of her personality and life experiences. For instance, one piece was inspired by the fall leaves in Beijing. "That was the memory of the most beautiful season of my hometown," she says, noting that the personal recollections she revisited for her jewelry are a reaction to the quick pace that has overtaken China in the past 20 years.
"I grew up in an extreme Communist family in the Eighties. We were never from money. My grandfather never cared about material things," she says, apparently unaware that one could find irony in that statement given that the Wans enjoyed state-supported luxury. Now 92, and long retired, Wan Li continues to rank as one of the most recognizable political figures in China after Mao and Deng Xiaoping.
Wan's nostalgia for her youth ebbs and flows. She speaks fondly of delightful autumns and a loving home life but abhors some deep-seated traditional mores, particularly those regarding the position of women in Chinese society. Girls, especially those from affluent families, are still groomed for marriage rather than encouraged to have careers and pick their own partners. "I live in Asia, where girls peak in their 20s, then they are picked by the men for marriage, and a woman's life is over. I f—ing hate it," she says. She has always seen fashion as a way of rebelling against such rigidity.
Perhaps ironically, then, she seems conflicted about the way in which China's explosive economy has transformed its social dynamic. "Luxury goods are used to upgrade a person's class," she says, noting almost wistfully that before, one had to take the time to get to know someone before determining his or her station in life. Still, such change is inevitable—and she's rolling with it in typically contradictory fashion. "If you want to survive in the modern world," Wan says, "you better adapt to it rather than fight it."
Jewelry photos courtesy of Bao Bao Wan