Art Bars
After a day binging on the 180-plus booths at the Frieze New York art fair, one thing you will need to wash it all down is a strong drink.
---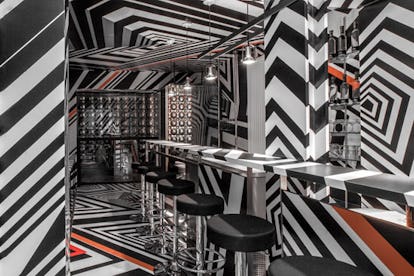 After a day binging on the 180-plus booths at the Frieze New York art fair, one thing you will need to wash it all down is a strong drink. At the fair you can head for the Fat Radish pop-up, sure, or hit Sant Ambroeus out on the deck, but insiders will want to tie one on in The Vault, artist Liz Glynn's flapper-generation speakeasy hidden in the fairgrounds. Each day, only select fairgoers will receive a key, making this possibly the first time the words "exclusive" and "Randall's Island" will be uttered in the same breath.
Glynn's installation, which is part of Frieze Projects, taps into a recent art-world trendlet: the rise of the artist-proprietor. For an exhibition at Hauser & Wirth last month of the work of the late maverick Dieter Roth, his son Bjorn created Roth New York, a bar berthed permanently within the massive Chelsea gallery (which used to house the roller club Roxy). And a few blocks south, it's perpetually five o'clock in Alex Hubbard's well-stocked portable bars, which are part of his show on view now at Maccarone.
Of course, these art-y watering holes are opening in galleries and beneath the tent of a mega-art fair. "Context always changes the way you experience things," artist Tobias Rehberger said to me earlier this week, while we were day-drinking at the Hotel Americano in Chelsea, where the German provocateur was in the midst of installing Bar Oppenheimer, his homage to a favorite local spot back home in Frankfurt. "I think of this as sculpture," he went on. "But I didn't want it to necessarily be in a museum or gallery. I want people to go not to just look at the art—but the art will just happen to be there."
Rehberger has held a career-long interest in demystifying the art-viewing experience. In 1997, he made his name trying to turn a sculpture by Donald Judd—an artist who always believed art should stand apart—into, well, a bar. (Unsurprisingly, the Judd estate turned him down.) When Rehberger won the Golden Lion at the Venice Biennale in 2009, it was for refashioning the event's cafeteria into a dazzling op-art space—not unlike the paint job he's applied to the sliver of space in the Hotel Americano's basement.
His ersatz Bar Oppenheimer, which opens to the public tomorrow night (through July 14), was born out of undying devotion to the original. "That bar is kind of my living room," Rehberger told as he sipped his favorite drink, a bracing concoction that's more lime juice than it is vodka and soda. When he moved to a different part of Frankfurt earlier this year, the distance from Bar Oppenheimer became such a hardship that he considered replicating it in his new neighborhood. It was his dealer Pilar Corrias who suggested he reproduce it in New York during Frieze, where Corrias would be showing his work at the fair. In its pretention-free, democratic ethos, Rehberger's Bar Oppenheimer has something in common with Gordon Matta-Clark's historic '70s restaurant Food, which is experiencing a revival of sorts at Frieze. "Think about how artists work," Rehberger said. "I don't just work in the studio. I'm working while I'm at the supermarket or in the park. The same goes for looking: Why not see art when you go to the bar?"
Photo: Tobias Rehberger's Bar Oppenheimer. All photos: Matthew Cianfrani.