Baby Watch 2017: Bar Refaeli Is the Latest Pregnant Celebrity
The model, who is expecting her second child, is the newest in a long list of expecting models and actresses.
---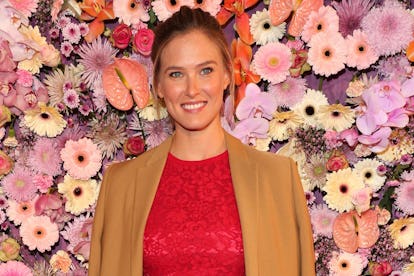 Gisela Schober/Getty Images
Baby No. 2 is on the way for Bar Refaeli and her husband, businessman Adi Ezra.
The supermodel took to Instagram to let the world in on the news on Tuesday. Refaeli posted a mirror selfie to her account in which her long-sleeved black top is rolled up to reveal her growing baby bump sticking out above her jeans. "Something's cooking…" she captioned the photo.
The Israeli beauty welcomed her first child, a daughter named Liv, this past August in Tel Aviv. She wed Ezra in a custom Chloé gown at a ceremony in Haifa, Israel, in September 2015. Soon after, Refaeli was arrested and charged with tax evasion.
Though any photos of her first-born daughter have yet to surface, the former Victoria's Secret model was faithful about documenting her first pregnancy on social media through a series of photoshoots, many of which happened to be poolside and beachside.
Prior to giving birth to her daughter, she told Hello! Fashion Monthly that she was looking forward to starting a big family like her own—and now it seems she's well on her way.
"I think this will be a decade of family…I come from a family of four children," she told the magazine. "A lot of [moms] could read this and think, 'Yeah, try having one first.' Hopefully, I'll have a big family, but I'll take it one by one."
Refaeli is just the latest in the ever growing list of newly pregnant celebrities. Beyonce broke the Instagram record for most-liked photo of all time–previously held by Selena Gomez and a can of Coca-Cola–when she announced via social media that she was expecting twins back in January. Also expecting twins: Amal and George Clooney, due sometime this summer, with Clooney's pregnancy fashion choices already gaining much praise. Other celebrities who are due later this year include model Rose Huntington-Whitely, Hannah Jeter, Zooey Deschanel, and Ciara, while over the weekend, both Amanda Seyfried and Liam Payne welcomed new babies.
Not to mention, if Keeping Up With the Kardashians trailers are to be believed, Kim Kardashian may not be far behind.
Watch W's Most Popular Videos: