Barack Obama's First Date With Michelle Is On Film
The Cinema Society premieres "Southside With You," a new film by Richard Tanne about the first couple's first date.
---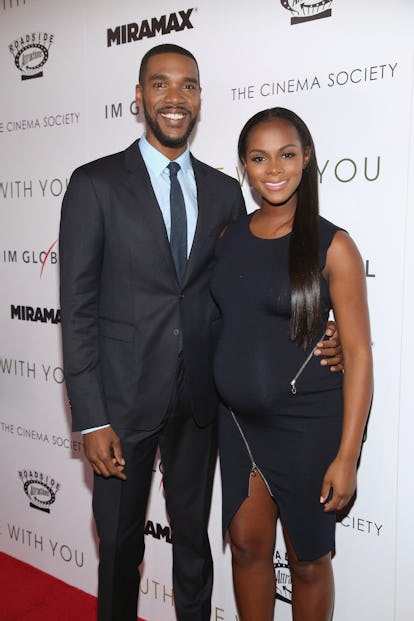 Sylvain Gaboury/PMC
"This is not a date."
Michelle Obama, played by actress Tika Sumpter, is emphatic about this throughout most of the hour-and-twenty-four minute film chronicling her first whatever-you-want-to-call-it with a then 28-year-old Barack Obama, who is played by Parker Sawyers. Written and directed by Richard Tanne, Southside With You, which The Cinema Society premiered in New York City on Wednesday evening, is a moving portrait of the beginnings of America's most powerful and steadfast couple. And despite knowing how it ends, Sumpter and Sawyers' uncanny portrayals and Tanne's thoughtful dialogue keeps you with them every step of the way.
Based on primary source material, the Obamas' first outing in 1989 began (after much cajoling on Barack's part) with a trip to the Art Institute of Chicago to see an Afrocentric exhibit. Then, Barack brings Michelle to a community meeting where he makes one of those speeches that moves an entire nation to fall in love with him, not to mention his future wife — who up until that moment was still a skeptic.
"Never dim your light for anyone," said Sumpter of what she learned from playing a stubborn Ms. Obama. "If someone's for you, it'll happen the way it's supposed to be."
When it comes to her own first dates, they weren't nearly as momentous. "I was left with the bill once," she said of her worst experience. "You know when you're both just staring at the check? And then he had to go and I had to pick it up! Rude!"
Sawyers, however, fondly remembers splitting the check with his wife on their first date. To each their own, apparently.
If Sumpter possesses a similar radiance to the first lady, Sawyers is a dead ringer for Barack Obama. He is tall and slender with a soft yet impactful voice. And not only does Sawyers look like Barack, he also has a knack for capturing the President's mannerisms.
"I watched as many candid moments as I could," he said. "Anything I could find if him stopping in Martha's Vineyard at store or when he voted once in Chicago. Anything where I could see his relaxed swagger. Even when he's off duty, he still talks slowly and considers what he's going to say next."
As we come to the end of the Obama era, a glimpse of their lives before the White House was made all the more bittersweet. At least they'll have more time for date nights after November.
Watch W's most popular videos here: