Barbra Streisand Took a Brief Intermission From Getting Her Teeth Cleaned to Support Meryl Streep
She called the President-elect "disgraceful."
---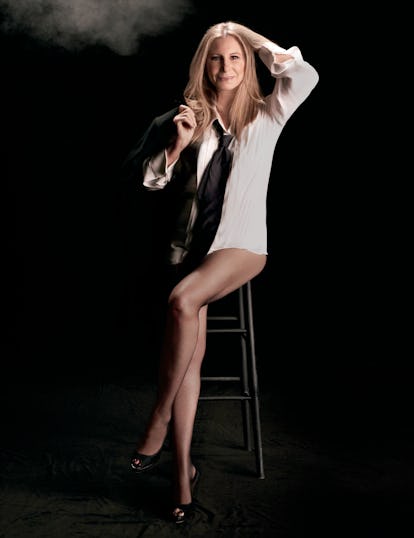 Forever Barbra. Photo by Steven Meisel, styled by Edward Enninful. W Magazine, December 2016.
What would it take to distract a vocal legend like Barbra Streisand from keeping her instrument in mint condition? As with all things in our present reality, the answer is Donald Trump.
Streisand was at the dentist's on Monday when she paused her appointment in order to call into to MSNBC's Hardball With Chris Matthews to bash the president-elect over his clash with Meryl Streep. As a refresher, Streep used her Golden Globes acceptance speech to criticize Trump's "instinct to humiliate," particularly reflecting on an instance during the campaign when he mocked a disabled reporter.
Steep's speech led, naturally, to Trump lashing out and calling her "overrated."
Well, Babs for one is having none of it. Calling in during the middle of a teeth cleaning, Streisand backed up Streep, saying that she was "proud of" the actress and "thought that she said what she said beautifully."
She also piled on to Streep's critique, adding, "I completely agree with Meryl—it was a heartbreaking moment and so beneath the dignity of the presidency, let alone any respectful person. And what we need more in this world is kindness and common decency, and how he reacts and how he has the need to talk back and insult anybody who doesn't agree with him, that's pretty disgraceful."
Streisand then revealed her worry about the example Trump's behavior sets. "What's the signal to little children who watch television and see this is the behavior of the soon-to-be-president of the United States?," she wondered, noting that "little girls were heartbroken when Hillary didn't get to be president." Ever the Broadway baby, Streisand also brought up Stephen Sondheim's "Children Will Listen" (a song sung by Streep in Into the Woods, natch) to explain how children will absorb the precedent Trump puts forth.
And, were Trump's offending comments not condemning enough, Streisand also used Trump's previous praise of Streep — he once called her one of his favorite actresses — to reaffirm why "you can't trust anything he says. If you get on his wrong side, he will blast you."
Streisand capped off her appearance by saying, "I don't know how we're going to take four years of this." That dread, coming from a woman who was literally in the middle of having her gums jabbed at by strangers.
The longtime Democrat is far from the only Hollywood figure standing behind Steep and against Trump.
Robert De Niro penned a lovely note to Streep, writing, "What you said was great. It needed to be said, and you said it beautifully…Enough is enough." Ben Affleck, meanwhile, stuck up for Streep's acting bonafides, arguing, "If there's one thing truly in the world that we know it's not true, it's that Meryl Streep is overrated," and George Clooney had but one question for Trump: "Aren't you supposed to be running the country?"
Buckle in, because the depressing wait for the President-elect's newest round of insults begins now.
Watch Barbra Streisand reveal how she met her husband: