Barbra Streisand's Bizarre Take on the Michael Jackson Controversy Has Angered and Confused Fans
Her response has angered and confused fans.
---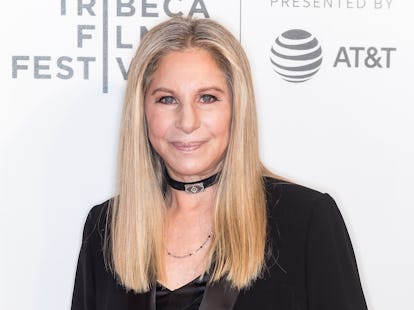 Gilbert Carrasquillo/FilmMagic
In response to Michael Jackson's alleged sexual abuse — brought again to national attention by the HBO documentary Leaving Neverland — fans of Jackson's music typically fall into one of two categories. There are those who believe the accusers; Wade Robson and James Safechuck say the pop star molested them for years, beginning when they were young boys. The other camp is those who say that the accusers are seeking attention and money by fabricating impossible-to-prove claims decades after the fact. But Barbra Streisand has, somehow, found herself in a dangerous third category, neither believer nor defender: She is a…justifier?
In an interview with The Times of London, the actress-singer-director said that she "absolutely" believes Robson and Safechuck's accusations, but downplayed the alleged abuse's psychological impact on them. "You can say 'molested,' but those children, as you heard them say, they were thrilled to be there. They both married and they both have children, so it didn't kill them," she said, per USA Today.
On the topic of Jackson's alleged pedophilia, Streisand added, "His sexual needs were his sexual needs, coming from whatever childhood he has or whatever DNA he has." Streisand said that she felt "bad" for both the accusers and for Jackson, but placed the blame on "the parents, who would allow their children to sleep with him." She went on to ask, "Why would Michael need these little children dressed like him and in the shoes and the dancing and the hats?"
Perhaps Streisand is still parsing through her thoughts, trying not to speak ill of a deceased friend while acknowledging the credibility of Robson and Safechuck's claims. Serial abusers can be charming and manipulative to those around them, and anyone caught up in Jackson's orbit could be understandably confused by the contrast between his public demeanor and the accusations about how he acted in private. However, it should always be made abundantly clear that however a child feels or felt about sexual activity with an adult, a child can never give meaningful consent to sexual activity with an adult. Convincing a child to go along with an abuser's actions is a process called "grooming," and its psychological toll can be devastating, even decades later.
Streisand's response drew immediate backlash from fans. And her use of the phrase "thrilled to be there" officially cancelled the song "Thriller" forever.
To report a case of suspected child abuser, call the National Center for Missing & Exploited Children at 1-800-843-5678.
Related: Michael Jackson's Music Has Been Banned By Some Radio Stations, But the Fallout is Mixed