Spanish Fly
Two Barcelona-based designers reveal their favorite hometown haunts.
---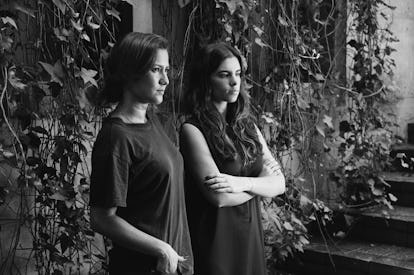 Though Melissa Losada and Marcela Velez, the design-duo behind luxury handbag line M2Malletier, were both born in Colombia, they didn't cross paths until they were students at Parsons in New York. Right away, they knew they'd make a great team— "We always wanted to create a project together," recalls Losada—but it took meeting a second time, in Paris, to compel them to start their brand.
Today, the tri-continental designers are based in yet another locale: Barcelona. "We just fell in love with the city," says Losada. The pair work out of stunning 19th-century cement factory reimagined by the Catalan architect Ricardo Bofill. "It's such a magical and surreal space," says Losada. "I'm inspired by every line and texture." Here, a few of their other favorite places in town.
El Mutis: If you manage to get your name on the list, find the unmarked door, and scale the spiral staircase, you can infiltrate Barcelona's most secretive hangout. Mutis is a beautiful modernist apartment converted into a clandestine bar, with red velvet curtains, a gold ceiling, and a white piano for live music starting at 12:30am. (Pau Clarís nº 192, Barcelona; barmut.com)
Pez Vela: Our favorite "chiringuito" (food stand) by the beach. For lunch, dinner or cocktails, it has the best view of the coast and serves delicious fresh fish and paellas. (Paseo del Mare Nostrum 19/21, Barcelona; grupotragaluz.com)
Il Giardinetto: This is the place to go to if you are looking for great Italian food and a surreal ambiance. Opened in the early 1970s and decorated by Catalan architects Alfonso Mila and Federico Correa, the restaurant itself is a work of art. The kitchen doesn't close until one in the morning, and you'll always find live piano in the evenings. (Granada del Penedés 22, Barcelona; ilgiardinetto.es)
Tapies Foundation: Constructed between 1880 and 1885, this modernist building was designed by Catalan artist Antoni Tapies. It hosts temporary exhibitions of modern and contemporary art and owns one of the most complete collections of Tàpies' work. (Aragó 255, Barcelona; fundaciotapies.org)
Brunch and Cake: Serves the best brunch in the city. Located on the most beautiful street in the Eixample neighborhood, it's surrounded by amazing architecture. (Enric Granados 19, Barcelona; cupcakesbarcelona.com)
El Me: This unique restaurant blends Cajun, Vietnamese, and Catalan cuisines. It's a must for Vietnamese food lovers. (C/Paris 162, Barcelona; catarsiscuisine.com)
Herboristeria del rei: This herbal shop is one of the oldest stores in Barcelona. Located in the Gothic neighborhood, it sells almost 220 varieties of honey, spices, candles and essential oils. (Vidre 1, Barcelona; herboristeriadelrei.com)
Carlos Tache Gallery: Located on Consell de cent Street, which has emerged as a local hub for foreign contemporary art, shows the work of artists including Wilhelm Mundt, Alberto Garcia-Alix and Cornelia Parker. (Calle Consejo de Ciento 290, Barcelona; carlestache.com)
El Cañete: This is our favorite tapas bar in town. Located close to the Gothic Quarter, it serves fresh fish and a great selection of wines. (Carrer de la Unió 17, Barcelona; barcanete.com)
La Boqueria: Dating from 1217, La Boqueria is one of the oldest and most popular food markets in Europe. You can find fresh fish, vegetables, fruits, cheese, and delicious tapas stands. (Rambla 91, Barcelona; boqueria.info)
Photos: courtesy of the designers