Meet the Next Big Things of the Baroness Von Sketch Show! Did We Mention They're in Their 40s (and Women)?
The creators behind the beloved Canadian import on IFC are totally irresistible.
---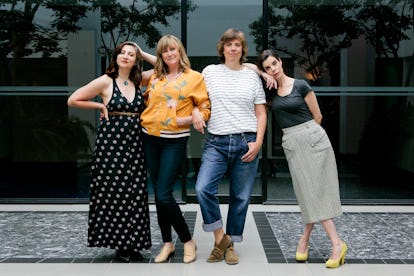 Photo by Gemma Warren for W Magazine.
Two years ago, just before the Baroness Von Sketch Show premiered on the Canadian broadcaster CBC, the series released its first sketch segment online, a preview of the series its four co-creators (the Baronesses) had spent the previous year developing. The reaction to "Locker Room," which depicts a utopian gym locker room of body positivity for post-40-year-olds, was swift and overwhelmingly positive: The next day, Meredith MacNeill, one of the Baronesses, was taken aback by the comments rolling in, the friends tagging each other on Facebook.
"As a person in comedy, once you're creating, you have to put blinders on and just work on the thing you're working on and not even look at the outside world," Aurora Browne, a fellow Baroness, said recently. "All of the sudden, we came out of the creative hole and we were like, 'Wait a minute…'" MacNeill added. The response confirmed they were onto something with their relatable, gently absurd humor—and for the four Baronesses, relatability is tantamount.
Baroness Von Sketch Show, the Canadian sketch comedy series that was picked up by IFC earlier this year, is the collective brainchild of the comedians and actors MacNeill, Browne, Carolyn Taylor, and Jennifer Whalen. They were in the midst of pre-production for the series' third season when we connected over the phone, just a week after it had debuted on IFC. (Frazzled by the process, MacNeill said she had just told a Virgin Mobile sales clerk, "Lots of love, bye!")
The four performers had observed a dearth of comedy they found relatable, and a deficit of jobs available to women actors beyond a certain age: "Women that I knew really hit a wall at 40, and it became harder to get jobs and harder to get seen," Whalen said. "The frustrating thing is, you hit 40, and you're like, 'Oh, I actually have some things to say now. I have a worldview. I think I'm a more interesting person than I was at 25, but suddenly, I have nowhere to put this.'"
Each episode of Baroness Von Sketch Show, which has found a home among IFC offerings like Portlandia and will begin shooting its third season next week, explores gender norms, sexuality, and aging, often all at the same time, offering a more nuanced portrait of its protagonists' lives than is often seen in comedy. For Taylor, for example, who described herself as queer, she aimed to subvert "broad stereotypes of what a lesbian is, what a gay man is," that she had witnessed in other shows, as well as to expand how 40-something women are portrayed on screen. "As feminists and as women," she said, "it was really important for us to have that lens."
"Our lives are complex," Whalen added. "We also wanted to show all the different spheres that we operate in."
And unlike shows like Monty Python's Flying Circus, which found comedy in an absurd premise (what Browne referred to as "wouldn't it be funny if…" comedy), Baroness Von Sketch Show takes a familiar, relatable premise and pushes it to its illogical extreme (or "isn't it funny when…" comedy). For example, "Mom Jeans" riffs on the horror of trying on new denim in a changing room—while also, with names like "Aunt Sheila Jeans" ("high-waisted like a mom jean, but they have more room in the crotch") and "Slutty Cousin Jeans" ("so tight I can't move any other way"), managing to satirize the implications of "Mom Jeans" and "Boyfriend Jeans" at the same time. "The thing that comedy does," Browne said, "it just pokes a finger at people and says, 'You know this is true.'"
A little more than four years ago, Taylor and MacNeill, who had recently returned to Canada after 13 years living and working in the U.K., met in Halifax; back in Toronto, Taylor introduced her to Whalen and Browne, as all three of them are alumnae of the city's branch of Second City improv theater. They began batting around ideas for a sketch comedy show, and within a year, on a shoestring budget of $5.20, they wrote, directed, and acted in a "sizzle reel" to send to networks. When CBC indicated interest, the Baronesses were clear: They would co-produce Baroness Von Sketch Show, and one of the four of them—Taylor, it turned out—would act as showrunner. The sizzle reel also proved "we could pull it off," Whalen said.
"Often, in this business, you don't get to do the job unless you've done the job, especially when you're a woman," Taylor said. Their writing room comprises predominantly women. "We've committed to this in front of the camera and behind the camera, to give as many new people and as many new voices a start," Whalen added.
"We knew what we wanted to create," MacNeill said, adding that "almost more than being a woman in charge of a show, this is a sketch performer in charge of a show."
Edward Enninful reflects on the best of '90s fashion: