Basquiat in the Buff
An intimate glimpse into the life of Jean-Michel Basquiat through the lens of Paige Powell.
---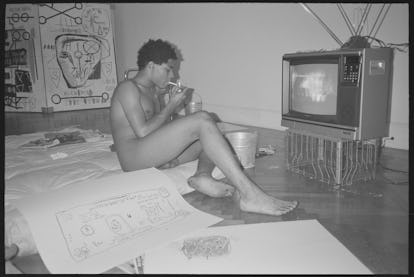 Andy Warhol and Jean-Michel Basquiat, whose posthumous myths have almost entirely eclipsed their lives, owed their strange friendship to Paige Powell. A vibrant young woman whose blonde hair and doe eyes flashed about New York in the '80s, Powell served as the associate publisher of Warhol's Interview magazine, though she also took photographs, curated exhibitions, and, in 1983, featured the young Basquiat in a group show in her Upper West Side apartment. Powell and Basquiat would come to spend a lot of time there together. Being in love with the wild child Basquiat was not always a picnic, but, as Warhol observed in his diaries, Powell seemed to have a domesticating effect on the mercurial artist, who eventually succumbed to drugs. "In private, Jean-Michel was incredibly sweet and an old-fashioned romantic," says Powell, whose series of Basquiat nudes, on view at the Suzanne Geiss Company in New York through February 22, provides a glimpse of the rebel artist in repose. "In these intimate photographs, he was just being himself," she says.