Battle of the Fashion Parties, Paris Edition: Victoria's Secret vs. Pirelli Calendar
Supermodels in lingerie go glam-for-glam with Oscar winners in gowns. Is the city grand enough for both?
---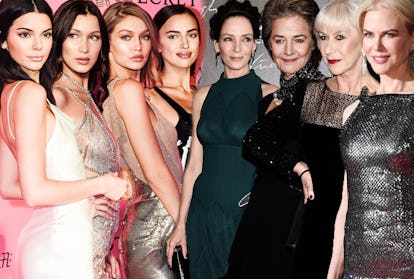 Photos by Getty Images, collage by Biel Parklee.
While the art world was in Miami Beach at Art Basel, most of the fashion industry was in Paris this week at dueling mega-events. On Tuesday night, the Pirelli Calendar hosted a black tie gala in honor of photographer Peter Lindbergh's calendar for 2017, which features un-retouched images of mostly makeup-less actresses like Nicole Kidman, Penelope Cruz, and Lupita N'yongo. The following night, Victoria's Secret held their annual fashion show in the same city, along with a party to follow. This is how they each did Paris.
Location, location, location Pirelli: The Cité du Cinéma, a hangarlike film studio located in Saint-Denis in the north of Paris. After a 40-minute drive from the city's center, guests were dropped off in a parking lot to check in at a tent. Then, they were bussed to the film studio, which was decorated with enormous blow-ups of Peter Lindbergh's calendar pictures. Victoria's Secret: The Grand Palais in Paris. The epic venue is a mainstay for large-scale, over-the-top events, like the Chanel Fashion Show. For this occasion, there was Victoria's Secret branding was everywhere. Three large signs hung from the facade, and a neon Victoria's Secret sign sat in the center of the space. You did not show up to the wrong party.
Security Pirelli: Three check points and cursory scan of your bag. Victoria's Secret: More than 8. I lost count. Bags were opened and inspected at least three times. Despite the cold weather, guests also opened their jackets and walked through a metal detector. Government-issued photo ID was required. Again, you did not show up to the wrong party.
Tribes Pirelli: Hollywood actresses hobnobbed with Pirelli executives. Victoria's Secret: Supermodels, former models, and an impressive turnout from the French fashion set.
At the 2016 Victoria's Secret After Party, It Was All About the Naked Dress
The A-List Pirelli: Photographer Peter Lindbergh was joined by four actresses who appeared in the calendar: Nicole Kidman, Helen Mirren, Uma Thurman, and Charlotte Rampling. Victoria's Secret: Gigi and Bella Hadid's parents Yolanda and Mohamed Hadid sat front row next to Balmain designer Olivier Rousteing and models Veronica Webb, Lottie Moss, and Gabriel Kane-Day Lewis. Also in the front row: designer Azzedine Alaia, Givenchy's Riccardo Tisci, editor Carine Roitfeld, Vogue Paris editor Emmanuelle Alt, former Victoria's Secret angel Doutzen Kroes and TV personality Nick Cannon.
Pre-game of choice Pirelli: A press conference with Peter Lindbergh at the Ritz, with a beautiful tea service. Victoria's Secret: Three full days of festivities, kicking off with a private flight from New York, and followed by a series of photo ops.
Best sparkly dress Pirelli: Nicole Kidman takes it in silver Armani Privé. Victoria's Secret: It's a toss up between Bella Hadid and Alessandra Ambrosio.
Music Pirelli: A lone DJ playing Euro-y EDM. He turned down all requests, even for Rihanna. Victoria's Secret: While the fashion show included performances by the Weeknd, Lady Gaga, and Bruno Mars, the afterparty consisted of a DJ playing hits that were danceable but a bit past their prime (Kanye's "Flashing Lights").
Drink of choice Pirelli: Champagne, followed by lots of wine. Victoria's Secret: A mysterious blue cocktail served to guests upon arrival.
Images From the 2017 Pirelli Calendar
Souvenirs Pirelli: Every single guest left the Pirelli calendar gala with a calendar of dimensions nearly impossible to carry onto a plane. Victoria's Secret: Photos and videos taken discretely on phones, to be released after the show ended. Is there any better takeaway than going viral?
After party Pirelli: Guests carrying the aforementioned calendars made their way to the bar at the Ritz — perhaps a few left theirs behind. Victoria's Secret: Ferdi Paris, home to the best burger in the city of lights. Gigi Hadid, Kendall Jenner, and Bella Hadid pre-ordered their cheeseburgers in advance.
Watch Victoria's Secret Angel Jasmine Tookes try on the $3 million fantasy bra: