Battle of the Fast Fashion Parties: H&M x Kenzo vs. Topshop
The third presidential debate may have dominated the headlines this week, but H&M x Kenzo and Topshop partied on. Who did it better? We compare.
---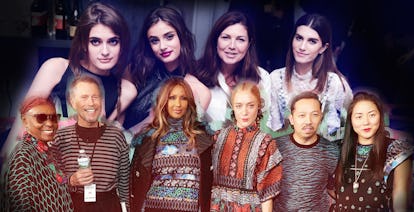 Politics may have dominated the headlines this week, but that doesn't mean there weren't parties aplenty for the fashion crowd. In fact, many people skipped out on the head-to-head match between Hillary Clinton and Donald Trump in order to attend the launch of H&M's newest collaboration, with Kenzo. Still, they were game to share their opinions on the red carpet. "I mean, I think Donald Trump is an idiot," said Rainey Qualley. "There's no way that's going to happen." The November 8 election also dominated table talk the following evening, at a Topshop dinner in honor of the brand's new campaign, starring Taylor Hill. Here, a side by side comparison of the two fetes.
Location, Location, Location: Topshop: TriBeCa's Spring Place H&M x Kenzo: Pier 36
Host with the Mostest: Topshop: Taylor Hill H&M x Kenzo: Kenzo designers Carol Lim and Humberto Leon.
Creative Direction By…. Topshop: The brand's own Kate Phelan. H&M x Kenzo: Frequent Grace Jones collaborator and design legend Jean-Paul Goude, who directed the fashion show.
Tribes: Topshop: New York It girls, millennial models, lots of off-duty editors relieved the debate went well for their gal. H&M x Kenzo: Actresses, rappers and red carpet mainstays, lots of on-duty editors anxious to watch the debate.
The A list: Topshop: Sarah Snyder, Tali Lennox, Madeline Poole, MacKinley Hill. H&M x Kenzo: Lupita Nyong'o, Chloë Sevigny, Iman, Elizabeth Olsen.
Musician(s) in Residence Topshop: DJ Chelsea Leyland H&M x Kenzo: Chance the Rapper, Ice Cube, who performed at the after party, and a lot of beatboxers.
That's Entertainment: Topshop: Posing for Boomerangs inside Spring Place's red room. H&M x Kenzo: Posing for Boomerangs in front of the beatboxers.
Scion of the Party: Topshop: Rose Gilroy, daughter of Academy Award-nominated screenwriter Dan Gilroy and actress Rene Russo. H&M x Kenzo: Rainey Qualley, Andie MacDowell's singing, song-writing daughter.
Talk of the Table, and the Front Row: Topshop: The gaffes of both Donald Trump and Hillary Clinton, the problems with hospitality in post-embargo Cuba (still), pro/cons of HBO show Westworld. H&M x Kenzo: The imminent third presidential debate, Vogue's endorsement of Hillary Clinton, "When is Ice Cube coming on?", the temperature.
On the Menu: Topshop: Beef carpaccio with truffles, wild Branzino, and homemade gelato and sorbet. H&M x Kenzo: Popcorn, meatballs, Peroni beer, and sushi passed in Chinese takeout containers.
Goody Bag Topshop: Not this time. H&M x Kenzo: A scarf from the collection.
Who Partied Harder? H&M vs. Topshop
Elizabeth Olsen at the KENZO x H&M launch party.

FilmMagic
Chelsea Leyland, Tali Lennox at the Topshop dinner.

Madison McGaw/BFA.com
Chloë Sevigny at the KENZO x H&M launch party.

FilmMagic
Mackinley Hill, Taylor Hill, Kate Phelan, Rose Gilroy at the Topshop dinner.

Madison McGaw/BFA.com
Lupita Nyong'o at the KENZO x H&M launch party.

FilmMagic
Madeline Poole at the Topshop dinner.

Madison McGaw/BFA.com
Jean-Paul Goude at the KENZO x H&M launch party.

WireImage
Rose Gilroy, Duffy at the Topshop dinner.

Madison McGaw/BFA.com
Chance the Rapper at the KENZO x H&M launch party.

WireImage
Sarah Snyder at the Topshop dinner.

Madison McGaw/BFA.com
Rainey Qualley at the KENZO x H&M launch party.

WireImage
Tali Lennox at the Topshop dinner.

Madison McGaw/BFA.com
Iman at the KENZO x H&M launch party.

FilmMagic
Taylor Hill at the Topshop dinner.

Madison McGaw/BFA.com
Bethann Hardison, Jean-Paul Goude, Iman, Chloe Sevigny, Humberto Leon, and Carol Lim attend the KENZO x H&M launch party.

Getty Images for H&M
Mackinley Hill, Taylor Hill at the Topshop dinner.

Madison McGaw/BFA.com