The "Worst" Films From BBC's List of The 100 Best Films of the Century
Why do we need a brand new list of the best films from the century that brought us Rotten Tomatoes and MetaCritic?
---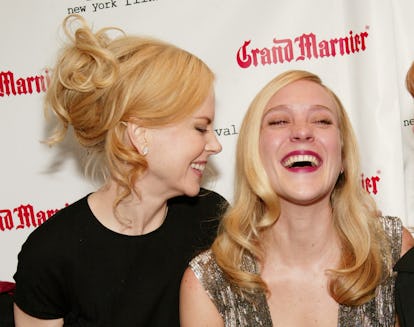 Photo by Evan Agostini/Getty Images
Did we really need a definitive critical ranking of the best films from the past 15 and half years? The BBC decided we did, and unveiled its list of the 100 best films released since 2000 yesterday. One hundred and seventy-seven critics from across the globe sent in their top 10's, and the BBC tabulated it all into their master list. Spoiler alert: Mulholland Drive took the top spot.
Of course, the list is fun to peruse, and even more fun to argue over. Which films should have made the cut and which shouldn't have? How exactly , for example, did Darren Aronofsky's juvenile Requiem For a Dream make the list while his much more critically adored The Wrestler managed to get completely shut out? Overall, the list is a great distraction plopped down on the internet in the middle of a frustratingly slow August.
The BBC justifies the list by pointing out that a list it released last year (one chronicling the best American films of all time) only included six films released since the turn of the millennium, so they wanted to turn their attention to more recent fare. Though it's not exactly like films released since Y2K are suffering to have their various critical appraisals aggregated, mashed up, and recalculated into some supposedly definitive judgement.
After all, this is the age of Rotten Tomatoes and MetaCritic. Both sites launched in the late '90s and have been churning out their versions of the final word — or number, more accurately — of a film's critical worth ever since.
What's the difference between reading the BBC's list and just picking out the recent films from both MetaCritic's and Tomatoes' all-time high score lists? Look at all three, and you'll find out that critics really love flicks like Boyhood and Pan's Labyrinth. Not exactly news. You might also notice a few notable snubs left off the BBC's list (No Gravity, no Sideways, no Lord of the Rings).
But perhaps it's more interesting to take a look at the film's that were met with divisive or mild reviews originally that somehow managed to find their way on this list. In other words, what are the "worst" films, as originally rated by critics, that were somehow included here?
Let's take a look at the five "worst" films, per their Metacritic score.
1. Dogville (Lars von Trier, 2003)
Metacritic Score: 59 (the only film included in Metacritic's "yellow" range).
Rotten Tomatoes Score: 70
BBC Ranking: 76th
Starring Nicole Kidman, Dogville is basically Lars von Trier meditating for nearly on how evil he thinks America is. To drive the point home, von Trier ends the avant-garde creeper with a montage of Americans living in poverty set to the tune of David Bowie's "Young Americans." Not exactly subtle, and maybe not exactly something that went down well with American critics during the politically tense times of 2003. Roger Ebert, for example, hated it. Others loved it. Nicole Kidman reportedly refused to work with von Trier ever again after it was completed. It might actually be the most divisive movie of the 20th century, which perhaps is achievement enough to justify its inclusion on the 100 best films of the century.
2. Margaret (Kenneth Lonergan, 2011)
Metacritic: 61
Rotten Tomatoes Score: 74
BBC Ranking: 24th
Ever heard of Margaret? Probably not, but it's not some totally obscure European arthouse film. It stars your Hollywood pals Anna Paquin, Matt Damon, and Mark Ruffalo and was directed by Kenneth Lonergan.
The film was originally scheduled for release in 2007, but sat in studio purgatory for years after Lonergan refused to cut the film back from his preferred runtime of three hours.
Eventually, a shortened version was released in 2011, and, as you can see, was met with "meh" reviews. What happened next was weird. A devoted group of critics saw promise in the film's shortened cut and took to Twitter and Change.org to demand that Fox Searchlight release the original cut. The studio relented, and released the three-hour versions on DVD, which critics apparently liked enough to make sure the film was included in a prominent position on the BBC list.
Which of course begs the question whether certain critics only included the film because they feel, in part, responsible for its eventual success?
3. The New World (Terrence Malick, 2005)
Metacritic Score: 63
Rotten Tomatoes Score: 62
BBC Ranking: 39th
"It's been said that The New World doesn't have fans," wrote critic John Patterson in The Guardian in 2009. "It has disciples and partisans and fanatics." He reckons the film's original mixed reviews came about because some critics plainly didn't understand it. It is after all Malick's take on Pocahontas with Colin Farrell as John Smith (which, to be fair, does sound horrible on paper). Those that did failed to fully explain the film's brilliance in their reviews at the time. Patterson writes he literally cried after the film and had to be alone for more than an hour. How could he be expected to write a convincing, clear-eyed review after that? Four years later he was finally able to write his definitive take on the film, and six years after that critics have cemented it as one of the best films of its time.
4. Spring Breakers (Harmony Korine, 2012)
Metacritic Score: 63
Rotten Tomatoes Score: 67
BBC Ranking: 74th
This is Gen X-er Harmony Korine's take on how much he disdains millennials (apparently almost as much as Lars von Trier disdains Americans). No wonder that the film originally proved divisive, but remains a favorite of many critics.
5. A.I. Artificial Intelligence (Steven Spielberg, 2001)
Metacritic Score: 65
Rotten Tomatoes Score: 73
BBC Ranking: 83rd
Hollywood's golden-est of golden boys Steven Spielberg decided to complete a project originally envisioned by perennial critical darling Stanley Kubrick, and it came out just two years after Kubrick's death. Maybe critics were judging Spielberg's project against what they imagined Kubrick may have done, but as time has passed, more critics have found that Spielberg succeeded on his own terms.
So, apparently​, even critics agree that not even critics get it right all the time, at least at first. Which does sort of make a convincing case that the only antidote to misleading critical aggregations is to revisit films periodically with other critical aggregations. Got all that? Anyway, we'll probably end up watching Margaret this weekend. It's not on Netflix, but the 24th best movie of the century is probably worth the $2.99 iTunes rental fee.
Watch W's most popular videos here: