BBC's Diversity Initiative Could Be the Beginning of a Major Overhaul in British TV
$124 million will be allocated towards diversifying the network's content and production staffs beginning April 2021.
---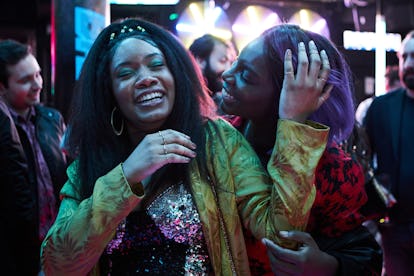 Image courtesy of I May Destroy You.
Just a few days ago, hundreds of Black artists, many of whom are American, signed an open letter demanding that they be financially supported for the work and contributions to the culture. Names like Lena Waithe, Barry Jenkins, and John Legend topped the list. This past weekend in the U.K., over 3,500 Black and Brown cultural leaders in the nation's film and television industry—including Idris Elba and Michaela Coel—signed a similar letter requesting "strategic commitments" be made in the U.K. for diversifying who is represented in British media.
Filmmaker Steve McQueen also wrote an op-ed this weekend calling Britain's racism, overwhelmingly white television sets, and overall lack of diverse on-screen representation "shameful."
The BBC, the network's largest broadcaster and its publicly-supported one, is listening and taking a step forward in the right direction.
According to Deadline, $124 million will be taken from BBC's preexisting budget and reallocated towards diversifying the network's content, including educational and programs and shows for children. This money will also go towards the network's "Diversity Code of Practice," which requires BBC to make all content comply with "diverse stories and portrayal on-screen; diverse production teams and talent; and diverse-led production companies." According to Variety, at least two of those three priorities must be met and included in the network's annual report.
Starting April 2021, 20 percent of talent on new BBC shows must be of "a Black, Asian, or minority ethnic background," in compliance with their new 20 percent diversity mandate. This applies to all new shows on BCC for three years—and hopefully extends further than that. The rule applies to both those in front of the camera and behind, and correlates to the United Kingdom's actual demographics at large.
With the success of Coel's new series I May Destroy You, which airs on BBC One in the U.K. and HBO in the U.S., it seems that some strides have been made. Coel stars as one of three Black leads, and off-camera, she wrote, produced, and co-directed the entire thing. There's also Trigonometry, another BBC series that airs on HBO Max, about a Black couple who catch feelings for a woman leasing their London flat.
But those are just a couple of examples of shows on BBC with lead actors who are not white—for every rare gem like those, there are a handful of period dramas that don't employ people of color to appear on screen. And as the network's new initiative states, production companies and teams must also be diversified as well in order to structurally dismantle the lack of opportunities afforded to Black members of the industry.
Two years ago, there was buzz about inclusion riders in Hollywood, which would include provisions in actors or filmmakers contracts that request a level of diversity (LGBTQ, women, people of color, for example) on set. But the actors and filmmakers themselves have to be the ones to make that request. This makes BBC's initiative for an entire network all the more powerful, and hopefully other channels in the U.K. and the U.S. will catch up soon.
Related: Meet Weruche Opia, I May Destroy You's Bright Light