Beatrice Galilee: The Fresh New Face of the Fresh New Met
Beatrice Galilee, the Metropolitan Museum of Art's first curator of design and architecture, brings a dose of youth and style to the new Met Breuer.
---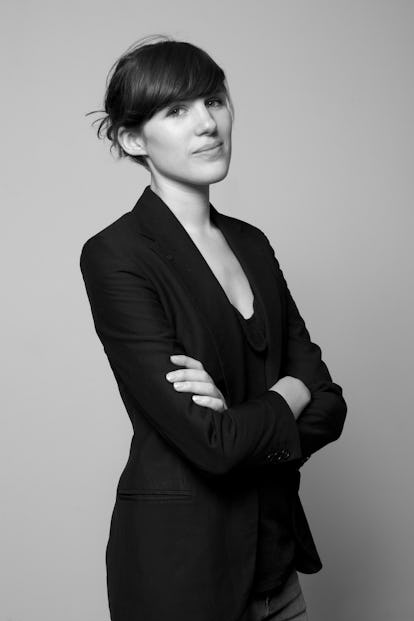 What does a $15 million facelift look like? If you're the Metropolitan Museum of Art in New York, a 145-year old museum doing its best to catch up to the times, it might be a whole new building—or in this case, an old one. When what's being called the Met Breuer opens to the public on Friday, it will reside in the former Upper East Side home of the Whitney Museum of American Art, but will act as the new face of the more contemporary- and modern-driven Met. To go with it, the museum has hired some precocious young talent, most notable among them 32-year old Beatrice Galilee, who arrives as the first full-time curator of architecture and design at the Met, ever.
The elegant, well-spoken Brit has the CV to match her lofty new position. By the time she turned 30, Galilee had already curated three international exhibitions, including the 2013 Lisbon Architecture Triennale. When she arrived at the Met in 2014, Galilee was indoctrinated with a trial by fire. While the moving plans predated her arrival, the curator immediately took over point on many aspects of the restoration process of the Breuer building on Madison Ave (at an estimated of $15 million). Former patrons of the Whitney will find that the subterranean patio has been turned into a garden, with help from the landscape architect Gunther Vogt. Look closer at the bones of the old building, and into its nooks and crannies: everything is familiar, but refreshed. "Spring cleaning," joked Galilee.
She's still got a lot more to sort out. Currently, Galilee is splitting her time between the Met Breuer and Long Island City, Queens, where she is overseeing the construction of the artist Cornelia Parker's Roof Garden Commission—another Met project targeting the contemporary art crowd, and the attendant buzz that follows them.
But Galilee is taking a moment—and not much more—to enjoy the fruits of her efforts. During the VIP previews last week, the saplings and blueberry bushes that Vogt had planted were just starting to bud, but it was the hive of activity inside that really had her buzzing. "It was so amazing to see it full," Galilee said. "We've been working in an empty building for so long. On Saturday, it was absolutely jammed with people. It feels like it's alive now."