My Friend's Band: Meet New Girl Rockers Beau
BFFs Heather Goldin and Emma Rose's debut album, That Thing Reality, was eight years in the making.
---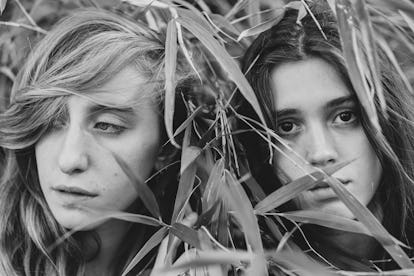 After childhood best friends Heather Goldin and Emma Rose enrolled in a guitar class when they were 12, it was only a matter of time before songwriting became their daily after-school activity in Rose's Greenwich Village basement. "It was just the way we dealt with everything," explained Goldin, 21, who is the vocalist in their folk rock band Beau.
When the duo release their debut album That Thing Reality on Thursday, it will double as a memoir of the past eight years, before Beau ever came into view. "Those songs were never written for the world to listen to," Goldin explained. "We wrote them for ourselves."
Not only were the tracks penned in bedrooms and bathtubs, but the band counted on a network of creative friends in New York to help the album come to life: Ryan McGinley shot the cover, India Menuez let them test-drive their new songs at her gallery openings, and the band Miike Snow has hired them to open for their American tour, before Beau head to Europe for their own headline tour later this month.
Then there was the time three years ago when the girls' mellifluous, lazy Sunday rock caught the attention of another close friend: Andre Saraiva, who booked them to perform at his Paris club Le Baron. Soon after, he introduced them to Gildas Loaëc, the owner of the French music label Kitsuné, who signed them on the spot, much to the girls' surprise.
"We never thought about getting signed before," said Rose, 20, who is Beau's guitarist. "We thought it was a joke."
"We sat on these pretty chairs in our dirty trench coats, not understanding what was going on," Goldin recalled of their visit to the Kitsuné headquarters in Paris. "We do everything together, and now we've signed our writing souls over to each other."
The girls have since embraced their rising profile. They sat front row at the Chloe show last fall, and played the after-party. ("We just tried not to sweat in these beautiful silk gowns," Rose said). They count male rock stars like David Bowie, Jeff Buckley, and Robert Plant as their main sartorial influence because "it goes with the 'beau' thing — we're kind of handsome," Rose explained. She's the self-appointed tomboy of the duo, whereas Goldin takes more risks: "I wore a Gucci bucket hat during New York Fashion Week," she said. "It got me into all the parties."