August Beauty Buzz
Jane Larkworthy finds chic first aid, greener makeup and the ideal ski-spa combo.
---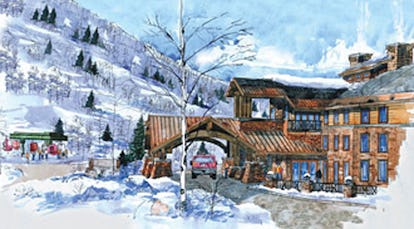 A rendering of Dakota Mountain Lodge.
1| SKI IN, CHILL OUT For those who desire the spa experience but don't want to spend their days doing aqua aerobics and eating celery sticks, the Golden Door at Dakota Mountain Lodge, which opened in July at the Canyons ski area in Park City, Utah, offers a modern solution. Once snow season rolls around, guests will work their muscles on the slopes, then hit the Door's newest location at the mountain's base for a little pampering. The 16,000-square-foot oasis features fireside lounges, 15 treatment rooms, and signature services like the Mountain Salvation Massage, which soothes skiing-induced soreness and eases altitude adjustment. The Dakota Mountain Lodge is also home to the first outpost of San Francisco restaurant Spruce, and chef Mark Sullivan has lightened up several of his celebrated dishes especially for spa guests. Unfortunately, creating a diet version of his famous duck-fat french fries wasn't possible. dakotamountainlodge.com.
Rainbeau Mars stays in triangle pose with Adidas Yoga Slips.
2| SURE-FOOTED Holding tree pose isn't just about strength and balance—sometimes even seasoned yogis are felled by slick mats or floors. To combat such slippery situations, L.A.-based yoga expert Rainbeau Mars, the woman behind the Rainbeau Mars Signature Line by Adidas, has designed Yoga Slips, foot grips that wrap around the sole and lace up like ballet slippers. Made from recycled textiles and rubber, they provide traction without limiting the foot's natural range of motion. $60; shopadidas.com.
Lauren Hutton and her eco-friendly makeup.
3| NATURAL BEAUTY Makeup Discs, which have been the star items in Lauren Hutton's eponymous cosmetics collection since its launch in 2002, were conceived to be all-inclusive, housing everything from concealer and eyeliner to blush and lip balm. But there were certain ingredients that Hutton wanted to exclude: namely, synthetic preservatives. "Getting the formulas right so that they were smooth and great, but doing it without parabens, was the problem," says Hutton, who has replaced the controversial chemicals with honeysuckle extract in her new Naturals Discs. The latest addition to her line is 95 percent natural—that lingering 5 percent being the plastic casing. "I wanted to make the compact out of corn," she says, "but Bobby Kennedy told me it causes even more waste!" Points for trying. $70; at Vert, Los Angeles.
Marc Jacobs's Lola.
4| NAUGHTY GIRL Over the years Marc Jacobs has transformed himself from scruffy club kid to artsy introvert to buff, tanned, bejeweled scenester. His fragrances, too, have had multiple personalities, ranging from his ladylike white floral namesake scent to 2007's fruity and free-spirited Daisy, a grapefruit and strawberry blend. His latest, Lola, which hits cosmetics counters in August, spices up a sweet mix of rose, geranium and vanilla with a punch of pink peppercorn. The result, says Jacobs, is "a little naughty." $65 for 1.7 oz.; at Bloomingdale's.
5| STRAIGHT TALK Help Remedies' ingeniously packaged pills and bandages employ basic complaints—i have a headache, i can't sleep, i have a blister—to attract customers in need of relief. Each variety of pill contains one active ingredient (loratadine for allergies, ibuprofen for aches), and the hospital-grade stick-on bandages are a surprisingly stylish bright white. Founders Richard Fine and Nathan Frank cut their teeth doing, respectively, product development for Nike (among other clients) and advertising for Axe body spray. $3.99 each; helpineedhelp.com.